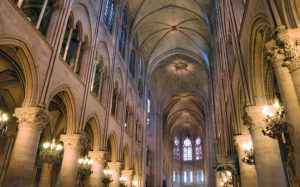 Paris' iconic Notre Dame Cathedral is structurally unstable and urgently needs reinforcing according to an independent report by Paolo Vannucci, a mechanical engineer at the University of Versailles, in France. The report outlines the initial assessment of damage caused by the massive fire that destroyed the landmark's spire and collapsed its roof.
Notre Dame's unique architecture relies on distributing weight through clustered columns, external flying buttresses, and counter-supports creating an 'exoskeleton.' However, the structural system of the Gothic church was "severely reduced" after the collapse of a part of the vault inside the cathedral, reported Francesco Bandarin, architect and former senior official at the United Nations Educational, Scientific and Cultural Organization (UNESCO), in the Art Newspaper.
Bandarin also wrote that an engineered model of the structure by Vannucci shows the walls of the landmark could collapse under high wind speeds greater than 90 km (56 mi) per hour. In comparison, before the fire, they could bear wind loads of up to 220 km (137 mi) per hour, thus requiring urgent temporary supports.
"Strengthening and restoring the structural system of Notre Dame must, therefore, be the primary goal in the rebuilding process," Bandarin wrote. "The walls need to be reinforced, and the rib vaults rebuilt and consolidated in order to allow the replacement of the roof, which itself plays an important structural role in the overall frame of the monument."