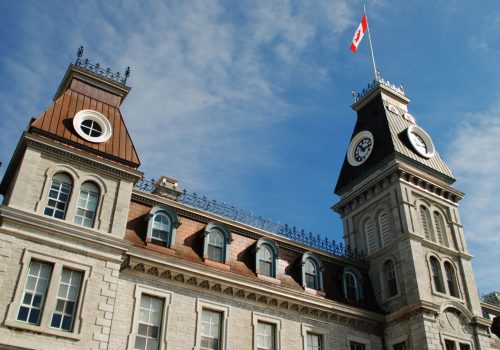 The Canadian Copper and Brass Development Association (CCBDA) and the Copper Development Association (CDA) honoured 12 projects as part of their North American Copper in Architecture (NACIA) program.
The awards recognize and promote building projects in Canada and in the United States for outstanding use of architectural copper and alloys. The winners included a mix of new and old buildings using the material in innovative ways. They were judged by a panel of industry experts on overall building design, integration of copper installation, and excellence in innovation or historic restoration.
Three Canadian projects were recognized, including the roof replacement of Royal Military College's (RMC's) Currie and Mackenzie Buildings in Kingston, Ont., which won an award in the restoration category. Designed by Colbourne and Kembel Architects, all cornices, acanthus leaves, dormer cladding, and ornamentation were replaced. The Mackenzie Building was originally built in 1876 in the 'Second Empire' style; it is considered one of Canada's top 10 heritage buildings. Currie Building was built in 1918 in the 'Collegiate Gothic' style; and is a recognized federal heritage building. The copper on both buildings was studied, replicated where appropriate and improved.
The new construction category's winners included the David Braley Health Science Centre in Hamilton. The designers—NORR Architects, Engineers and Planners—wanted the facility to connect with the community and act as a new downtown landmark. Copper was identified as a material to meet both pragmatic and esthetic ambitions. The exterior is clad in a palette comprising sandstone, high-performance glazing, aluminum composite, and custom-finished copper composite panels. The materials were selected to enrich the architectural narrative of blending in with the natural surroundings and reinforcing the civic and cultural precinct character.
In the ornamental category, Hermant Building in Toronto won. The building recently received a façade restoration, including the recreation of a triple-door entryway with bronze doors, transoms, and decorative-pressed bronze finishes. The original doors had been in place until 1935 and were removed in a renovation and replaced with standard aluminum and glass doors. Designers Heather & Little was contracted to recreate the doors as they were originally built, working with a hand-drawn historic drawing and practically no details.
"Copper has been used architecturally for centuries, but every year I'm impressed by the ingenious and unconventional applications architects derive from this age-old metal," said CDA's Stephen Knapp. "The award-winning projects exemplify not only the formability and durability of copper, but also the incredible diversity in the world of architecture."
To learn more about the winning projects, click here.