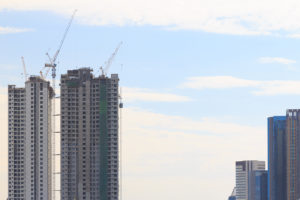 Canada's non-residential construction industry is expecting a modest turnaround this year while the residential sector is forecast to see a small contraction, according to The Conference Board of Canada's latest outlook.
Following two years of contractions, the non-residential construction industry is forecast to grow by 1.9 per cent this year. The value of new non-residential building permits increased by an estimated 15 per cent last year to reach $35 billion, indicating a healthy number of non-residential projects in the pipeline.
Growth in e-commerce continues to drive demand for more warehouse space. In combination with several new mining projects and planned plant expansions, this will support growth in the industrial segment, the conference board predicts. Meanwhile, the institutional segment is expected to be supported by federal government infrastructure spending on new community centres and recreation facilities. Additionally, provincial infrastructure spending on schools and hospitals will continue to support the industry.
Overall, non-residential construction industry pre-tax profits are expected to rise by 8 per cent to reach $2.3 billion this year and then grow at an annual rate of around 6 per cent over the next four years.
However, business investment levels are expected to remain below their 2014 peaks, lowering growth opportunities for non-residential construction going forward.
The residential segment of the construction industry last year posted its strongest growth since 2013. Following growth of 4.9 per cent last year, GDP growth in Canada's residential construction industry is forecast to fall by 0.3 per cent in 2018.
As homeowners become more cautious under new mortgage rules and rate hikes, real expenditures on new housing are expected to slow from 5.8 per cent in 2017 to 3.4 per cent in 2018 and then drop by 3 per cent in 2019.
On a national basis, housing starts are forecast to drop by 2.9 per cent in 2018. The decline in starts will be led in large part by a 4.3 per cent drop in Toronto and a 6.5 per cent drop in Vancouver. Renovation activity will perform better, but will also see a deceleration to 1.8 per cent growth in 2018 from 4.5 per cent last year.
On a brighter note, Canada's backlog of unsold new homes is falling. The diminishing supply of new homes on the market will encourage building activity in the long run, propelled further by strong population growth in some regions and strengthening labour markets around the country.
In all, residential construction industry pre-tax profits will drop to $4.2 billion in 2018 but will recover some strength in subsequent years.