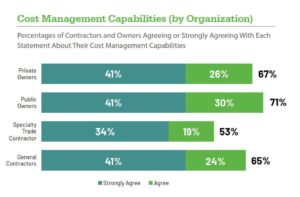 Owners and contractors in Canada face a variety of challenges when it comes to project cost management, according to a report by Procore Technologies Inc.
The report, conducted in partnership with Dodge Data & Analytics in July 2021, explores the industry's perception of project cost management and how construction professionals across multiple regions leverage technology to manage costs. Participants included construction owners, general contractors, and subcontractors in the public and private sectors across Canada, Australia, New Zealand, the United Kingdom, and the United States.
When it comes to leveraging technology to track projects and costs, Canadian organizations are split, with many using multiple applications and spreadsheets to manage the information. While many are confident in their ability to track information to the benefit of their business, they still find there are still many areas in need of improvement.
Of all the regions surveyed, Canada led the way in knowing the real-time profit/loss status of projects/portfolio, with 68 per cent of Canadian respondents agreeing or strongly agreeing that they know where they are making or losing money on a project or across their portfolio, at any given moment.
Fifty-eight per cent of Canadians indicated they can easily uncover cost details and create comprehensive financial reports from a single source of truth, while 63 per cent said they can dynamically track every dollar in their budgets and forecast critical costs with real-time data from the field, while staying in sync with the accounting system.
The report shows that owners expressed more confidence in their overall cost management capabilities than contractors surveyed, and each type of owner studied (public and private) is more confident than either type of contractor (general and trade).