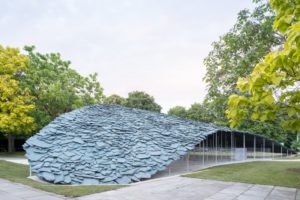 Japanese architect Junya Ishigami, celebrated for his experimental structures that interpret traditional architectural conventions and reflect natural phenomena, has designed the 2019 Serpentine Pavilion in London, United Kingdom.
Every summer Serpentine Galleries invites internationally renowned architects to create his or her first built structure in England. Serpentine's aim is to choose architects who extend the boundaries of contemporary architecture and introduce them to wider audiences.
The architectural brief is to design a 300-m2 (3229-sf) pavilion that is used as a café and meeting space by day and a forum for learning, debate, and entertainment at night.
Ishigami's design takes inspiration from roofs, the most common architectural feature used around the world. The pavilion is made by arranging slates to create a single canopy roof appearing to emerge from the ground of the surrounding park. Within the interior, the pavilion is an enclosed cave-like space, a refuge for contemplation. For Ishigami, the pavilion articulates his 'free space' philosophy in which he seeks harmony between man-made structures and those that already exist in nature.
Describing his design, Ishigami said, "My design for the pavilion plays with our perspectives of the built environment against the backdrop of a natural landscape, emphasizing a natural and organic feel as though it had grown out of the lawn, resembling a hill made out of rocks."
Junya Ishigami founded the prize-winning Junya Ishigami + Associates in 2004. He was also the winner of the Golden Lion award at the Venice Biennale of Architecture in 2010. Ishigami is the 19th architect to accept the invitation to design a temporary pavilion. This pioneering commission began in 2000 with Zaha Hadid.