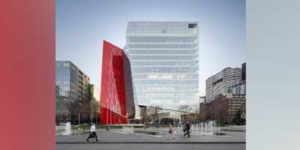 One of the final developmental pieces of the 'Quartier des Spectacles' in downtown Montréal, the Îlot Balmoral, a 13-storey mixed-use office building is now complete.
Commissioned by the Société d'Habitation de Montréal (SHDM), the structure sits adjacent to Place des Festivals and is the new home of the National Film Board of Canada (NFB) and Université du Québec à Chicoutimi's (UQAC's) École des arts numériques, de l'animation et du design (NAD School).
The cube-shaped building is wrapped in exterior glass selected for its white frit pattern and translucent panels. The exterior positions the façade as a potential giant screen against which projections of Quartier des Spectacles initiatives can be presented. The glass façade provides an infusion of light into the building. The frit pattern also serves to control thermal heat gain, which meets the firm's Leadership in Energy and Environmental Design (LEED) Gold sustainability objectives.
The exterior façade's infusion of light highlights a large internal atrium, carved diagonally through the centre of the building to create two volumes. The firm oriented the cut based on the site's previously existing pedestrian flow, moving diagonally between the Place des Arts Metro station and Place des Festivals. To delineate the cut, and to make the building's mark on the skyline, a bright red external fold contrasts against the clean glass exterior. The colour was chosen as an echo of the cultural branding materials of the Quartier des Spectacles, and serves to distinguish Îlot Balmoral from the functions of more traditional office towers in the district.
The atrium establishes the lobby's identity, ascending skyward to the building's glass ceiling amidst a material palette of white and light grey walls, and exposed concrete floors.
Above the lobby level, the open atrium is framed by brightly lit offices. Pedestrian bridges on every level connect the building's two volumes, crossing the atrium and providing views of the surrounding cityscape, with a backdrop of Montreal's landmark Mont Royal. The northeastern volume floats one storey higher than the southwestern volume, and the latter hosts a rooftop greenspace with city views designed for outdoor events.