By Dave Jackson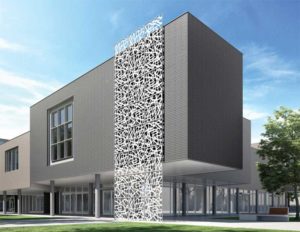 The building codes and approaches to sustainability are changing rapidly with many manufacturers and construction professionals struggling to stay ahead of the curve. The industry is also facing severe labour shortage. This is why advancements in masonry and manufacturing technologies have combined with other materials to create 'green,' easy-to-install systems. They also meet evolving codes, such as the National Energy Code for Buildings (NECB) 2017, a transition to achieving net-zero emission targets by 2030.
"Due to the pace of change with energy codes, it has become difficult for designers and manufacturers to interpret, meet, and demonstrate compliance with the increasingly strict code requirements," said Mark D. Hagel, PhD, P.Eng., executive director, Alberta Masonry Council. He explained the traditional building materials of wood, masonry, concrete, steel, and glass may not deliver the necessary properties, even in temperate climates, to comply with thermal requirements.
For example, steel-studded backup walls can offer far less thermal resistivity than masonry due to the former's high thermal conductivity. Additionally, the majority of today's HVAC systems only operate at approximately 85 per cent efficiency, which is fine for more temperate places in the world, but is less than the 95 per cent required to help building performance in colder climates. It is also becoming more difficult to tradeoff fenestration for opaque walls, especially without modelling. The requirements for increased accuracy in accounting for thermal bridging of all elements is also driving up the insulation demand, leading many architects to take another look at how masonry's thermal mass and heat retention, durability, and sustainability can help meet today's increasingly challenging codes.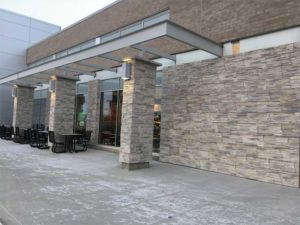 In 2013, the Masonry Veneer Manufacturers Association (MVMA) worked with the National Concrete Masonry Association (NCMA) to ensure their products were formally recognized as concrete masonry products. Two ASTM standards for adhered manufactured stone masonry veneer (AMSMV) were also developed to determine adhered manufactured stone unit properties and veneer installation procedures. The latest versions of these standards were published in 2018. These standards, along with Canada's NECB requirements, have resulted in increased installation of thin masonry veneer products over exterior rigid or semi-rigid insulation.
The need to maintain an acceptable wall thickness coinciding with the increased depth of exterior insulation now needed to meet NECB requirements has made adhered masonry veneers popular material options. Thin veneers deliver the noncombustible properties and attractive look of full bed masonry while reducing the required wall thickness by several inches, as well as creating a thermal break between the structural wall and the exterior.
This lowers the thermal bridging that is typically not reduced when cladding is in direct contact with the backup wall, as in a wood-stud wall with siding.
However, the totality of the NECB code is yet to be realized as the transition to the stringent NECB 2030 draws closer. NECB 2017 can be interpreted as a transition code, representing a move to thermally broken (or at least improved) connectors for cladding with the goal of net-zero residential buildings by 2030.
As a result, one trend designers and constructors are anticipating, especially in the residential sector, is the use of exterior-insulated, 2×6 double-studded structural wall to comply with thermal performance requirements and a second 2×4 wall connected to the top and bottom of the structural wall to eliminate thermal bridging and serve as cladding support.
Masonry presents an alternative to this complex, multilayered system, as thermal breaks in adhered veneers require less thermal bridging, and the material provides an inherent thermal mass advantage that directly affects cooling and heating cycles.
"Masonry has been able to achieve Passive House targets with either concrete masonry or clay brick," said Hagel. "There is a great opportunity for masonry to become much more viable than vinyl siding and traditional stucco. The new energy codes will also increase the square footage of opaque walls, which may cause a move to classic architecture that uses smaller windows and more masonry, as popularized in 1920s North American cities."

Control the content you see on ConstructionCanada.net!
Learn More.