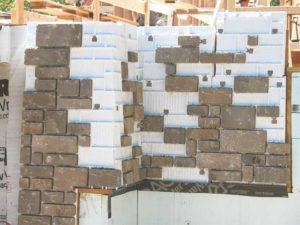 The life-cycle impact of masonry
When evaluating the environmental aspects of building materials and their ability to meet the latest code and sustainability requirements, specifiers should begin the process with a life-cycle assessment (LCA). This includes a cradle-to-grave or cradle-to-cradle evaluation highlighting practices that range from manufacturing and building maintenance to end-of-building-life projections and material re-use, repurpose, and recycling.
At a minimum, an LCA should ascertain steps ranging from the environmental impact of the raw material acquisition process (cradle) to the manufacture of finished product. The results of a LCA can be reported by a manufacturer or can be used to develop an environmental product declaration (EPD), which is a formal reporting of the life-cycle impacts of products, according to specific rules.
Other considerations should include:
the cost of building materials over the entire lifespan of a building;
fire-resistant construction and resistance to impacts and wind-borne debris;
superior sound absorption with all frequencies; and
designs that do not produce volatile organic compounds (VOCs) or the release of other hazardous chemicals.
Multiple disciplines for durability
These details are important for nearly all types of masonry installations, including their seamless integration into hybrid wall systems. Often used in multifamily residentials, shopping centres, and low-rise construction, brick veneer and wood or steel studs are paired to create façades that look like solid masonry and provide long-lasting brick exteriors.
There are also new options simplifying the path to a high-performing veneer system. One such path combines thin veneers inserted directly into profile-moulded expanded polystyrene (EPS) panels that are attached directly to the structural wall. The veneers are held in place with a specially designed anchor and finished using a proprietary, high-performance mortar.
This system provides:
a steady-state R-value of 9.2;
continuous insulation with extra layer of thermal protection;
improved water management; and
acoustical comfort.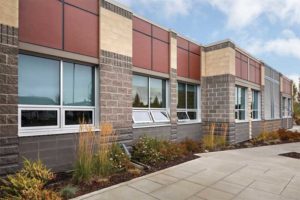 Since it can be paired with a number of structural systems that can accommodate the additional internal insulation, this system has helped building owners meet and exceed demanding energy codes, while creating the beautiful look of brick or stone masonry veneer.
Another consideration for mixed-use structures is sound transmission for interior walls, also known as the sound transmission class (STC) for new construction. The aforementioned wall system has an STC of 61 when installed over steel stud framing. Additionally, the performance improves if installed over structural concrete masonry blocks, depending on size, configuration, and adjacent room occupancy.
Likewise, a panelized stone system is also viable, as it eliminates the need for lath or mortar, and allows for application over a wider variety of substrates than adhered stone veneers. This particular product can be fastened directly to the substrate—whether concrete, wood, or fibreglass—and can also be installed over rigid insulation to enhance R-values. The panelized stone also has an integrated drainage channel that acts as a rainscreen, keeping the wall dry. "With panelized stone systems, one has eliminated the need for the substrate to be attached to z-bar or drainage mat product and still have the reduced thickness and esthetics of a thin stone veneer," said Hagel.
Environmentally preferable materials and products
The careful specification of building materials and products is important in achieving the sustainable design strategies. Materials should be evaluated over their entire life cycle, from raw material extraction to end-of-life. In this context, environmentally preferred masonry products should incorporate:
abundant and efficient use of raw, bio-based, recycled, or rapidly renewable materials;
sustainable acquisition or manufacture measures;
regionally available materials;
regional manufacture or fabrication;
recyclable, salvageable, durable, and nontoxic materials; and
construction waste avoidance.
These building products have evolved tremendously in recent years to meet the performance and esthetic needs of modern construction. In terms of overall life-cycle costs, masonry veneer systems provide added thermal protection, moisture management, and mould resistance to a building, thus delivering beauty, performance, and long-term maintenance.
Known for their timeless appeal and enduring strength, today's next-generation masonry assemblies are helping the construction environment achieve green, sustainable goals with enhanced building performance, installation efficiency, and flexibility—all without losing the unique character and appeal of traditional masonry.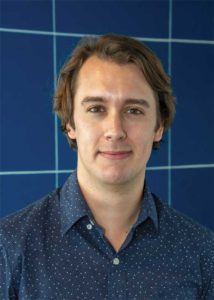 Dave Jackson is the brand manager for masonry and dry mix at Oldcastle APG, a CRH Company. Coming from an ad agency background with a specialization in building products, Jackson melds creativity and industry intelligence to help the masonry team remain a leading provider of modern masonry solutions to construction pros, architects, and builders across North America. He can be reached via e-mail at dave.jackson@oldcastle.com.

Control the content you see on ConstructionCanada.net!
Learn More.