By Chris Bennett, CSI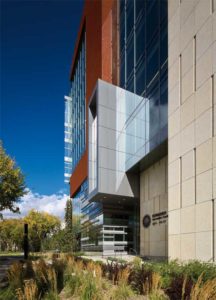 Concrete emits carbon dioxide (CO2) during production, installation, and maintenance. Installing with modern internal curing technologies will reduce concrete's overall CO2 emissions by making it stronger and reducing construction timelines.
Durable concrete requires proper curing (hydrolysis), a process that allows its component materials (water, sand, rock, and cement) to create calcium-silicate-hydrate (C-S-H). Wet curing, which involves curing blankets and labour to keep the sheets wet, has traditionally been a good way to achieve this. However, wet curing is a time-sensitive process, requiring applications often foiled by weather, labour, and other factors that increase the time and expense of construction.
In an attempt to build faster, most project teams choose (unknowingly) to speed up the process by curing just enough, resulting in concrete that has dried out too fast and does not achieve maximum strength. Long-term durability has been lost and the concrete is now dependent on petroleum-based patch, repair, and coating products to keep it functional for the rest of its life. The cost of mitigating poor concrete, both economically and environmentally (through additional CO2 emissions over decades), can be enormous.
Much of the effort to reduce concrete's carbon footprint is focused on CO2 at the creation of its cement component rather than its entire life cycle. While cement production is responsible for about seven per cent of manmade carbon dioxide emissions, construction and maintenance of buildings account for more than 35 per cent of global final energy use, and nearly 40 per cent of energy-related CO2 emissions. A meaningful approach to curbing CO2 emissions cannot focus solely on cement creation, but must also improve the process of creating concrete as well as its quality. By focusing only on cement production to lower CO2, building professionals are missing other important opportunities to reduce emissions through a more holistic approach.
Maintaining moisture
One solution is maintaining concrete's placement water by using modern internal curing (IC) technologies. Being able to maintain moisture allows for fuller hydration and reduces volume change, thereby creating more durable, less permeable concrete. New methods for maintaining moisture also allow project teams to pour and place concrete at accelerated time frames when compared to traditional placement methods of sealer sprays and 'moisture membranes'—call it the 'age of internal curing with nano-infused cement (NIC) admixtures.'
Curing concrete from the inside, out
Post-Roman IC was originally the domain of pre-wetted lightweight aggregates of expanded shale, clay, or slate (ESCS), which could release water during hydration to replace moisture loss. Early IC methods were first used by the U.S. government around 1910 for building concrete ships when steel was scarce. Since those early days, different forms of IC have been utilized around the world in commercial construction. According to the ESCS Institute, IC "helps concrete realize its maximum potential in a simple, economical, and sustainable way. IC improves hydration, reduces chloride ingress, and improves durability, all of which extend the concrete's service life."
According to a study by the U.S. Department of Transportation, internal curing can also reduce volume change (shrinkage) as lightweight aggregate fills pores that would otherwise be left empty and at risk for shrinkage.
Versions of IC have been available for decades. These not only include use of clay and shale, but also water-retaining cellulose fibres. Fly ash, although primarily introduced as a way to replace cement, also has water-retention properties. However, colloidal silica technologies are creating the most consequential material changes in concrete.
Colloidal silica
According to science writer and technologist Michael Eisenstein, "Every child playing on a beach knows that when they mix sand and water in a bucket, sooner or later, a layer of wet sediment will settle at the bottom of the bucket. What they may not know is that, in 1861, British chemist Thomas Graham discovered that a little chemical coaxing could cause the same wet sediment—solid silicon dioxide particles—to remain suspended, creating a liquid mixture with surprising and distinctive properties."
Colloidal silica is formed from nanometer-sized silica particles that are evenly distributed and suspended in a liquid base. This liquid, denser than water, and having been stabilized electrostatically by Brownian motion (i.e. arbitrary movement of particles in fluid suspension resulting from their impact with the fast-moving molecules within the fluid [or gas]), allows the particles to maintain their unique state of suspension and react deep within the smallest parts of concrete.
To articulate how small a nano is, let us look at a couple of examples. A strand of human DNA is 2.5 nanometers in diameter, and there are more than 25 million nanometers in a single inch.
In the early 2000s, the U.S. Army Corps of Engineers used colloidal silica in a construction project to create a rock-matching grout. While colloidal silica with particles on the nanometer scale had been patented in 1969, this was one of the first large-scale cement utilizations of the substance (read B. Green's "Development of a High-Density Cementitious Rock-Matching Grout using Nano-Particles"). Since then, colloidal silica has become an essential component of many product applications, especially as a component of concrete and coating technologies like hydro-cements, nano-silica, and NICs.