by Chuck Knickerbocker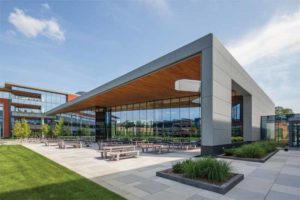 Architects and specifiers are starting to take note of how modern, cold roll-formed and laser-welded steel framing methodologies are resulting in previously unimagined esthetic possibilities for curtain walls. Both steel formation processes allow for the development of larger sections of thin-gauge carbon or stainless material (see "Steel Forming Processes: Then and Now"). When used as the primary framing member in curtain walls, they make tall, unobstructed free spans of glass feasible, checking high-design and daylighting boxes in one system (Figure 1). They also eliminate the need to remediate hot-rolled steel sections for compliance with architecturally exposed structural steel (AESS) requirements. For instance, when working with AESS, exposed welds must be ground smooth and obvious markings should be removed. With laser-welded profiles, there are no exposed welds or mill roll or identification marks to remedy.
Compared to traditional steel and aluminum assemblies, this new generation of steel frames provides certain basic design benefits such as:
narrower frames;
sharp edges versus rounded profiles;
corner joints without any visible weld beads or fasteners; and
flexibility to use back mullions of different shapes and sizes.
Since framing establishes the base for a curtain wall assembly's performance, systems employing this new forming methodology can effectively satisfy demanding design and performance criteria.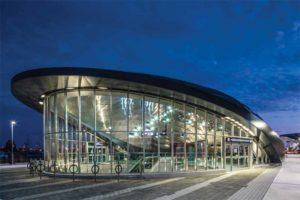 Moreover, cold roll-formed and laser-welded steel processes can capitalize on steel's obvious strength over more conventional materials like aluminum. Steel has a modulus of elasticity nearly three times of aluminum (2.9 x 107 psi versus 10 x 107 psi, respectively). By applying new forming methodologies, this can translate into smaller system frame profile and component parts than aluminum without decreasing end-use performance.
Consider a 6-m (20-ft) long steel or extruded aluminum mullion with the same cross-sectional properties, using 1436 Pa (30 psf) in a 1.5-m (5-ft) module as the design load (discounting allowable deflection limits momentarily). In this scenario, an aluminum mullion deflects 112 mm (4 in.), whereas a steel mullion deflects 39 mm (1.5 in.). This allows the designer to do one, or all of the following, when using steel as the primary framing material:
use smaller system shapes while meeting the same deflection criteria, thus translating to larger, uninterrupted views of the outside environment and greater illuminance for interior occupied spaces;
support larger lites of glass (or other glazing infills) than their aluminum cousins; and/or
span larger heights without the need for reinforcing or more frequent connections to the building structure.
Despite the many benefits associated with these new steel forming methodologies, myths continue to circulate around steel's limitations in curtain wall systems. These steel framing processes are well understood and used in Europe. However, they are still new to the North American markets, accounting for much of this confusion. To help set the record straight, this article will address three relevant inaccuracies as they relate to Canada's snow-laden winters, subarctic temperatures, and Leadership in Energy and Environmental Design (LEED) v4.1 goals.

Control the content you see on ConstructionCanada.net!
Learn More.