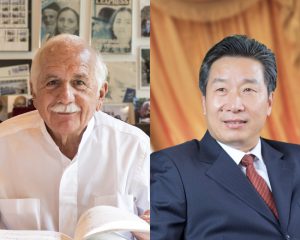 The Council on Tall Buildings and Urban Habitat (CTBUH) has awarded Moshe Safdie, founder of Safdie Architects, and Wuren Wang, vice-chairman of CITIC Heye Investment Co. its 2020 lifetime achievement awards.
Safdie was recognized with the Lynn S. Beedle Lifetime Achievement Award, which recognizes an individual who has made extraordinary contributions to the advancement of tall buildings and the urban environment during their professional career.
Safdie is an architect, urban planner, educator, theorist, and author. Over a 50-year career, he has explored the essential principles of socially responsible design with a distinct visual language. His projects span a wide range of typologies, including airports, museums, performing arts, libraries, housing, mixed-use, and entire cities.
Wang was awarded the Fazlur R. Khan Lifetime Achievement Award, which recognizes an individual for their demonstrated excellence in technical design and/or research that has made a significant contribution to a discipline(s) for the design of tall buildings and the built urban environment.
Wang is responsible for the development, construction, and operation of China Zun, the tallest building in Beijing. For 41 years, he has devoted himself to research and innovation. Wang has achieved mastery in the field of construction management of large-scale projects, domestic and international investment, high-end commercial real estate and supertall building development, and created many top achievements in China.