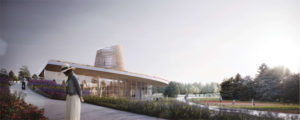 Moriyama and Teshima Architects have won an international competition to design a new $12-million honey bee research centre at the University of Guelph (U of G), Ont. The facility is aimed at helping understand the stressors affecting honey bees and other pollinators and finding solutions.
"We have been nothing short of inspired by the staff and the work of the Honey Bee Research Centre and the University of Guelph's commitment to the sustainability and health of the agricultural industry in Ontario," said Diarmuid Nash, a partner at Moriyama and Teshima.
The new centre will be built to Leadership in Energy and Environmental Design (LEED) Gold standards and include elements such as natural ventilation and low-carbon construction. The university is currently considering locations on campus for the new facility.