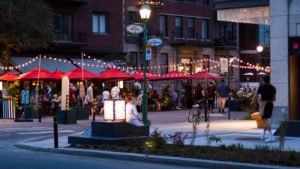 Montreal-based design firm civiliti has set a new urban trend in its home city with its newest project, Place Monique-Mercure.
The space exists as a small urban oasis, planted on a widened sidewalk outside of the historic, art-deco Outremont theatre, complete with seating, lighting, and scenic components.
Removing a few parking spaces along the street allowed the designers to provide neighbours and passersby with a place to sit, chat, and enjoy street life. Free space around the bench units can also accommodate impromptu theatrical events.
The concept was developed with the intention of providing an outdoor living space amenable to neighbours, theatregoers, and passersby. It also emerged from a wish to hold theatrical events, thus enabling the Outremont theatre to engage directly with the public. The result was a plan with an architectural rhythm.
A long, winding granite ribbon weaves around the site, providing multiple seating arrangements for families, couples, or solo walkers. It culminates in a small pyramid-like volume at the intersection of lively Bernard Street and the more residential Champagneur Street. Three lightboxes act as lanterns to punctuate the public space and provide it with a warm glow at night.
The adjacent art-deco theatre was an inspiration for the designers as they chose the materials for Place Monique-Mercure. A rich, brown granite, quarried from Quebec mountains, was used for the site's long bench. Douglas fir was selected for the seating areas, matching the colour of the theatre's doors.
The outer layer of the lightboxes is made of laser-cut stainless steel plates, with an interior plexiglass layer acting as a diffuser to soften the glow of small light-emitting diode (LED) projectors. Brushed steel was also used for the decorative bands inserted in the stone and in the pavement, giving reference to a typical art-deco geometrical line motif.