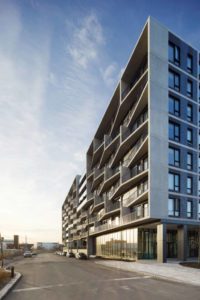 ACDF Architecture's project, Vivre—a residential building spread over 13,900 m2 (150,000 sf) in Montreal's Outremont district—seamlessly integrates prefab balconies into its precast concrete envelope to solve for thermal bridging.
Composed of an assembly of horizontal and vertical precast panels, the building's facade creates the illusion the concrete frame has been stretched to create balconies, an important attribute for a residential project. However, these vertical panels projecting from the facade act as supports for prefabricated balconies placed on top.
"Efficient in terms of speed of assembly, this system of prefabricated walls enabled us to obtain the raw appearance of the facade that we had envisaged for this project", emphasizes Maxime-Alexis Frappier. "In addition, the panels are attached to the structure by point anchors, which considerably limits the traditional thermal bridges which are normally caused by the balconies which are mostly a simple extension of the concrete slab. With the current climate challenges, better control of thermal bridges is crucial, even morally obligatory in our opinion."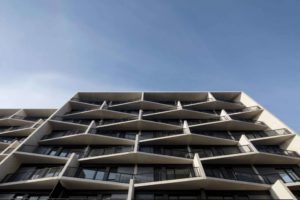 The project was handled by the general contractor Presti Demeures et Développements. Other collaborators involved in the project were structural engineer, GeniMac Consultants; mechanical and electrical engineers, Équipe SP inc.; and landscape architect, BC2.
Vivre is one of the first constructions on the new avenue Thérèse Lavoix-Roux which connects the district with the Université de Montréal's new campus and avenue du Parc. Vivre was designed to reflect the principles of the architectural composition of several manufacturing buildings in this sector, which stand out with their exposed concrete structure on the facade and their brick infill walls.