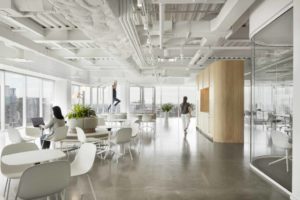 ISSADESIGN and A+ design new work environment for the research and development centre of Behavox, a Montreal-based data analysis company focusing on artificial intelligence (AI).
Throughout the design process, it was a collaborative effort with the A+ team and the various partners and specialized contractors. Designed and built during a pandemic, the project was a major challenge for the entire design team.
Overall, the materiality of the project is simple, neutral, and timeless. The work combines wood, transparency, raw concrete and white. The idea was to work on linearity and curvature for all the installations. The curve adds a softness to the work environment while reflecting the light that falls on it.
The centre features panoramic views of the city of Montreal and its icons from the upper floors. The challenge for the design agency was to design many closed spaces and allow meetings and moments of concentration without obstructing the views. The project aims to provide its occupants and visitors with a community-oriented space that is at the same time imbued with an elegant simplicity.
The meeting rooms revolve around the central core of the building, allowing natural light to flood the work areas and other informal collaborative spaces. Soundproofed glass cubicles surround the windows of the floors to provide employees with private workspaces close to their personal workspace.
The connection between employees is favoured by the installation of a floor opening, facilitating access from one floor to the other and offering a view of the city from the arrival of clients on the 27th floor.
On either side of this bar is the agora/cafeteria, which acts as the lungs of the project. The latter is located on the south side of the building, where the view is the best because of the presence of the Old Port and the river.
This area is meant to be inviting because of its outdoor garden aspect set up by its custom-made furniture with lamp posts reminiscent of city gardens. The abundance of vegetation enriches the work environment and makes it pleasant and soothing.