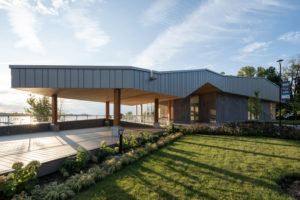 The Baie-de-Valois Nautical Centre in Montreal underwent a redevelopment to replace its deteriorating park chalet and promote easier accessibility for its diverse clientele.
Inspired by the geological stratification of the site, the project is broken down into different layers which reflect the surrounding landscape. The angled roof is reminiscent of a tree canopy, while the wood cladding embodies the rhythm of tree trunks in a wooden area. The base of the building represents the geometry of a rocky shoreline. The gesture of the roof translates to the building's interior, creating an atmosphere which reveals views of Lake Saint-Louis.
The building, the two patios, the parking area, and the pathway leading to the docks are all universally accessible, designed for everyone to take full advantage of the new facilities.
The geometry of the roof plays a role in reducing energy use by optimizing passive solar gains. In the summer, solar rays are blocked by the roof's pronounced overhang on the southwest side to limit heat gain inside the structure. In the winter, when the angle of the sun is decreased, it can penetrate directly into the spaces and contribute to passive heat gain.
A large skylight allows for natural ventilation and provides access to diffused natural light in the community hall. The use of a white roofing membrane reflects light and limits heat gain in the chalet. A portion of the roof rainwater is redirected onto the site in filtered areas provided by the landscape.
Reclaimed ash wood was used for the interior finishing work and the exterior soffits. In addition to contributing esthetically to the project, the reuse of this material contributes to carbon capture and sequestration.