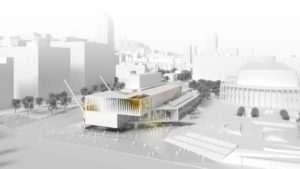 The Musée d'art contemporain de Montréal (MAC) has selected Saucier+Perrotte Architectes/GLCRM & Associés Architectes, a consortium of Québec architects, to design its new museum. This is the culmination of a competition launched in June 2017.
The jury was unanimous in its decision. It found the selected design "inspiring, luminous, and relevant," and believes it will result in a contemporary construction fully coherent with the museum's raison d'être.
All spaces in the museum, from lobbies to circulation areas, will be redesigned to showcase contemporary art. The exterior façade will be transformed by the expansion of the main entrance and an added area on the second floor, including an outdoor terrace.
"Complementing the existing building erected in the 1990s, the new MAC will adopt a resolutely contemporary expression of openness, transparency, and a sculptural approach adapted to its unique urban context," said Gilles Saucier, the project's head designer.
The proposed design builds on open and light-filled spaces to strengthen the special connection joining MAC to the quadrilateral defined by Place des Arts, a concert hall, and to the Quartier des spectacles neighbourhood.
With the angular overhang of the expansion, the museum will enjoy far greater visibility on the lower, Sainte-Catherine Street side of the Esplanade,. Under this jutting structure, the museum square will guide visitors to the main entrance, while freeing up the space necessary for holding festivals. On the second level, a large window will showcase the museum's restaurant, a double-height space that will open onto the outdoor terrace.
From an urban planning perspective, several features will link the new MAC to its context. On the ground floor, the museum will glow with transparency and the hustle and bustle of its public spaces, while on the Place des Arts Esplanade level, the architectural proportions and expression will integrate with the existing architecture. Indeed, the upper section will be composed of an envelope of folded metal blades revealing the interior spaces at times, and filtering natural light.
According to MAC, the facility has entered a pivotal stage in its development. Museum attendance has increased steadily over the last five years. The MAC in its current condition faces various issues, including a lack of space.
With this project, MAC seeks to convince the public of contemporary art's value to the society. The new building is slated to open in 2021. The MAC will remain active throughout the construction period. The expansion project will bring about nearly a 100 per cent increase in exhibition spaces and rooms, including three new exhibition rooms.
The MAC and the Société de la Place des Arts de Montréal have partnered with the Société québécoise des infrastructures (SQI) for this project.