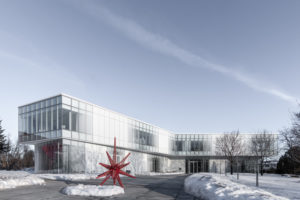 Defined as the combination of a park and a shopping mall, Pierrefonds Public Library, designed by Chevalier Morales, aims to bring old city planning concepts to life by blending greenspaces and community utility together into a site plan inspired by shopping mall architecture.
While looking through old masterplans of Pierrefonds-Roxboro, the architects came across a graphic image depicting the main planning criteria for green spaces in the district. The drawing showed an idealized park on a generic site. The park was divided into various areas, based on age groups and types of activities: green spaces, rest spaces, play zones, exchange networks, etc.
The project's main elements are directly inspired by the shopping mall typology: wings merging into a central meeting space, a network of stairways, a bleacher, floor openings allowing visual connections, multiple skylights, as well as a civic space. The building's surroundings, usually filled with parking lots, and opaque walls are replaced by green spaces and glass curtain walls.
An in-depth study of this document, paired with a reorganization of the various areas, especially the green spaces, became one of the foundations for the project. An interior garden emerged as a result of these explorations. Created by an extraction process, the garden allows natural light as well as part of the natural surroundings to reach the heart of the existing building. The garden also functions as reference point for users and employees of the library.
The project adjusts itself according to the site's main elements. Instead of being purely functional and economic, the building's shape is drawn to manifest its urban presence on Pierrefonds Boulevard, get closer to the wooded park, and retract to reveal existing greenery islands on the site.