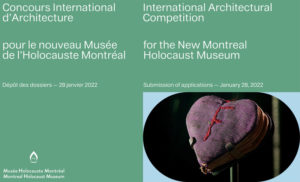 The Montreal Holocaust Museum (MHM) announces the launch of an international architectural competition for the design of its new building on Saint-Laurent Boulevard in Montreal. The architects have until Jan. 28, 2022 to apply to the competition, which calls on them to submit designs aimed at addressing the importance of Holocaust remembrance sites and educate future generations about the dangers of hatred, antisemitism, and racism.
Founded in 1979 by Holocaust survivors and young leaders of the Jewish community, the MHM is recognized for its collections of artifacts and recorded survivor testimonies, its educational programs and exhibitions, and its innovative outreach.
The new MHM will open its doors in 2025, allowing a new generation of visitors from around the world to discover the history of the Holocaust, the resilient stories of survivors who rebuilt their lives in Montreal, and the importance of respecting human rights. A public campaign for the new Museum will launch in the winter of 2022 in order to raise funds and awareness for this important cause.