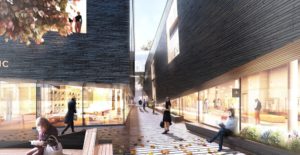 Montréal firm NEUF architect(e)s has named five new partners, integrated Humani Design, and also opened a third office.
Since rebranding as "NEUF" in 2012, the firm has steadily grown. To further this expansion, NEUF has named Louis Cormier, OAQ, OAA, Hugo Gagnon, OAQ, OAA, MRAIC, ULI, Lucien Haddad, OAQ, OAA, NCARB, LEED AP BD+C, Christopher Ilg, OAQ, OAA, MRAIC, and Frank Puentes, OAQ, OAA, as partners.
After collaborating closely for years, NEUF architect(e)s has now formally integrated Humani Design into its corporate interiors team. Chantal Lusignan and Anne-Marie Charlebois have a combined experience of more than 50 years and bring to the table a portfolio of local and international clients.
Continuing its westward expansion, NEUF has now opened a new office in Toronto. Already present in Ontario for more than 20 years through its Ottawa office, the firm has long sought to get closer to certain key clients and projects—notably the Yorkville development for First Capital Realty. Architect Lilia Koleva leads this new office.
NEUF now has more than 140 employees in three locations—Montréal, Ottawa, and Toronto—and a diverse portfolio of more than 7000 projects across four continents.