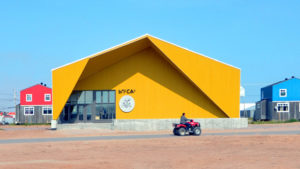 Marc Blouin and Catherine Orzes of Blouin Orzes architectes, Montréal, are the recipients of the 2020 Emerging Voices awards. They were honoured by the Architectural League of New York along with seven other architectural practices from across North America.
Blouin has been building projects in Nunavik, Qué., north of the 55th parallel, since 2000. Orzes joined the firm in 2012 and became a partner in 2018, forming Blouin Orzes architectes.
Beginning with a hotel project in Inukjuak, Qué., the firm has designed and built a number of civic projects for the Inuit communities in the region. Its work is attuned to native tradition and environmental issues, deftly adapting to the needs and limitations of the harsh northern climate. The firm's process, in turn, is rooted in meaningful communication and collaboration with its audiences.
"Our work is not just about designing and building. It is about 'accompanying' our clients as best we can, from the very beginnings of a project till its final realization," the principals write.
Recent projects include Katittavik Multidisciplinary Hall in Kuujjuaraapik, Nunavik, Polar Bears International House in Churchill, Man., and Wildlife Field Research Station in Pond Inlet, Nvt.
The selection process for the two-stage jury included past Emerging Voices winners and other design professionals who reviewed work from approximately 50 firms.
"Individually, each of the winners of this year's Emerging Voices was selected for the coherence of their creative body of work," said Paul Lewis, jury member and president of the Architectural League. "Collectively, the range of the work of the eight winners—from material-intensive explorations, to the nuanced production of community and urban identities, to innovative buildings realized with tight economic and environmental constraints—speaks to the diverse challenges found in the architectural discipline today."
Since 1982, the program has identified more than 250 awardees that have gone on to develop influential careers.