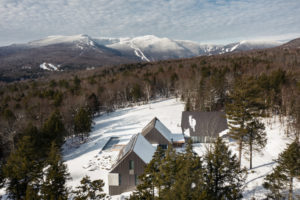 Located in the Green Mountains in Vermont, U.S., the Three Summits home, designed by Montreal architect NÓS Architectes, blends in with the natural landscape, and conveys the idea of life's journey through its three main stages: childhood, adulthood, and old age.
The house's three structures feature rocky prisms and monumental roofs, and the structures are linked together at different heights from the inside by landscaped passages. The project is inspired by the organization of rural constructions in the American Northeast. By the repetition of simple forms freely positioned on the site, the project generates a diversity of living spaces supporting the needs of communal life. Withour ornamentation, the lines, planes, and volumes compose a pure, even primitive, geometric whole.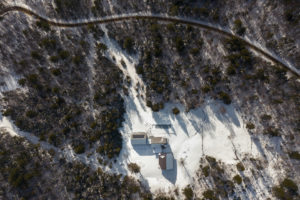 Located at the highest point of the topography of the site, the residence maximizes unobstructed views of the mountains. This disposition is made possible by the layout of a vehicular access road encircling the site, leading the visitor into the heart of the forest before they even discover the residence framing the view of the Green Mountains. The vast domain is programmed with a multitude of outdoor sports activities, including a network of mountain bikes and cross-country ski trails.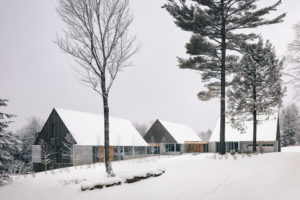 From the main access threshold, the visitor is confronted with a first-landscaped courtyard, which reveals a spectacular view of the valley. From there, a series of interior plateaux, spaced about half a metre apart, distribute the entire program across the low inclination of the site.
The central pavilion houses the common functions and is located at the intermediate level, slightly lower than the main entrance. On one hand, the three-storey pavilion, slightly below, features an independent unit on the ground floor, two dormitories upstairs, and a series of suites accessible directly from the garden level. On the other hand, the highest pavilion is accessible directly from the indoor garage and houses the masters' quarters.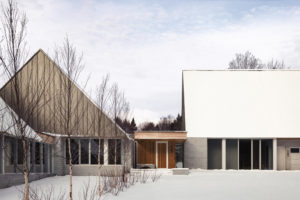 Large masses of granite are arranged to frame the landscape and contain the interior spaces. Constituting the only opaque surfaces on the first floor, the stone monoliths accommodate the technical spaces and form the base of the three triangular prisms. These high angular roofs stage the Green Mountains, fully assuming its iconographic reference to winter sports and as a "nordicity"—a degree of northerness as calculated on a scale developed by Canadian geographer, Louis-Edmond Hamelin in the 1960s. Despite its considerable size, the building unfolds with refinements in the landscape, borrowing colours and textures from the surrounding nature.