As part of the HousingTO action plan, two new housing complexes, 11 Macey and 150 Harrison, have begun to take shape in Toronto. The goal is to create more design-forward, dignified, inclusive, and welcoming homes for the homeless.
Designed by Montgomery Sisam Architects, these two buildings form Toronto's first-ever permanent supportive housing that uses an innovative modular construction method.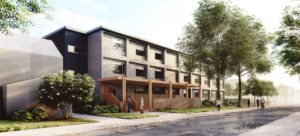 "While the social value of this project is unassailable, its architectural significance is found in a design that not only recasts our experience of modular buildings but also of those who will inhabit them," Montgomery Sisam Architects said in a press release.
The challenge faced by Montgomery Sisam is that modular buildings are often perceived as cold and industrial, foreign to their surroundings. To foster inclusion, it was critically important that 11 Macey and 150 Harrison be dignified, welcoming, well integrated homes that would combat the stigmas associated with homelessness.
The Modular Supportive Housing Initiative is a rapid delivery model that will provide more, better quality, long-term housing for those currently experiencing homelessness on an accelerated timeline.
Among the on-site touches are a number of wood elements in Douglas fir that give warmth and finesse to the façade like the trellised entrance canopy and the slats and screen on all ground-floor units. They also help distinguish the ground level and create a scale comfortable to patrons and passers-by. The restrained colour palettes—the light grey board at Macey and darker grey board at Harrison—respond to the hues that colour their respective neighbourhoods and allow the residences to recede into the existing fabric of buildings. Subtleties like the crimson entrance door and similarly coloured furniture reinforce the appearance of domesticity rather than institutionality.