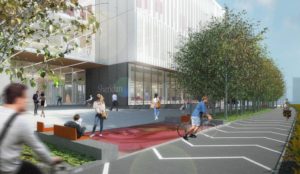 Though students spend much of their waking hours on campus, they are not typically involved in shaping the spaces within which they socialize, study, and play. However, for the new Sheridan College Hazel McCallion Campus Student Life and Athletics Hub, Mississauga, Ont., Montgomery Sisam Architects and Moriyama & Teshima Architects were determined to change this process, enabling Sheridan's Student Union to contribute their big ideas to shape the ideal athletic and student centre.
In order to create facilities that were designed to give more diversity and depth to the student experience, and deliver programming that was student-first, Montgomery Sisam worked directly with Sheridan College's current students in a collaborative manner.
"Everything was on the table at our blue-sky sessions with members from Sheridan's Student Union. From ping pong tables to an open air, elevated, running track, we encouraged students to think big about what they wanted to see in this future building. Once we saw repetition in terms of the wants, we really narrowed the design concepts and programming down to the creative needs. The students really contributed to and gave us the inspiration for the programming you see in our design," says Daniel Ling, principal, Montgomery Sisam Architects.
The result is a uniquely designed 6503-m2 (70,000-sf) campus hub building that houses athletics, food services, and recreation spaces, and features out-of-the-box thinking, including a brightly coloured, multi-level floating running track encircling the building. This track was designed to create open access, and both visually and physically connects to nearby basketball, yoga, and fitness studios.
A glass clad exterior provides for more diffuse natural light and offers students beautifully engaging views to the rest of their campus and surrounding city core, while encouraging them to spend more time on campus. The glass exterior is designed to prevent solar glare, while bringing more natural lighting into the building for optimal health and wellness purposes.
A series of modern lounge and study spaces, fun and functional games areas, and top-of-the-line fitness facilities, club rooms, and cafes, feed into and off a transparent double-height atrium.
With programming created in collaboration with the students' union, the new Sheridan College Hazel McCallion Campus student centre hub was designed to give more diversity and depth to the overall on-campus experience by placing actual students at the core of the design process. The architectural scheme for this campus creates a new heart for the campus—one that can play an accessible and integrated part of everyday student life.