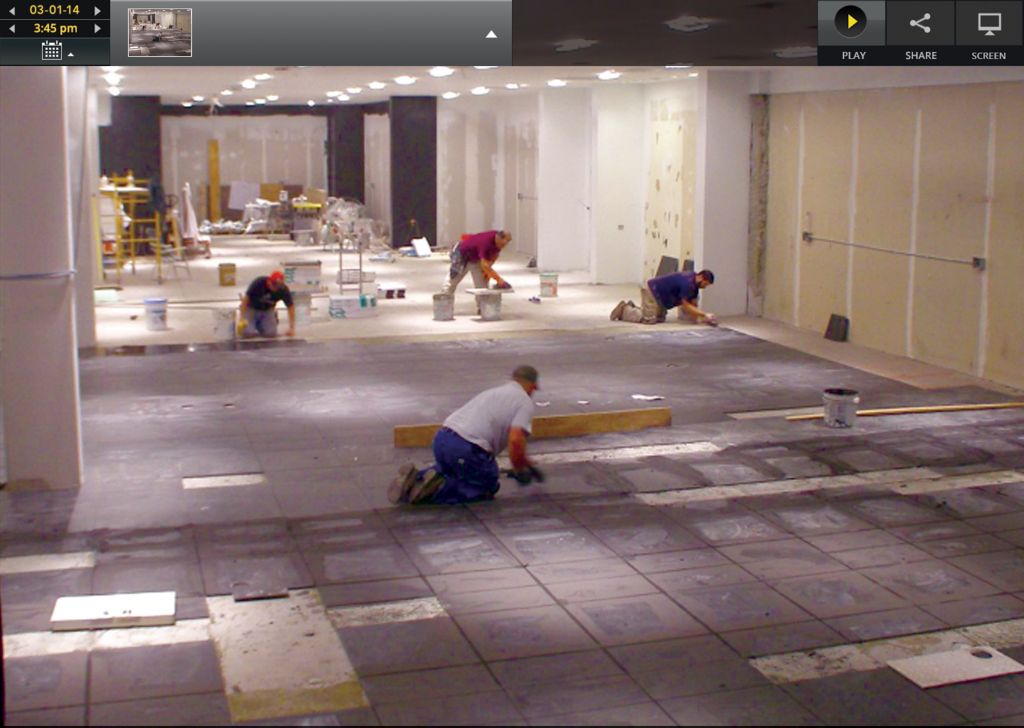 By Chandler McCormack
Although most construction cameras are used to capture the exterior build of projects, there is growing interest in using cameras to manage and document interior build-outs, including new retail stores and capital improvement projects.
Compared with general construction jobs, build-outs are more costly in terms of area, exceeding hundreds of thousands of dollars to create a store from the ground up. As such, enhanced project management tools, like construction cameras, are being used in projects. Both owners and the construction team can benefit from 24/7 jobsite access and archival records for both smaller in-line stores and big-box projects.
Project management for remote teams
Any retail construction project manager considering use of interior construction cameras will begin with return on investment (ROI) and how the products can save time and money on a project. The potential for process improvement, compressed construction timelines, and quality control is significant when construction cameras are providing constant virtual access to the jobsite from anywhere in the world.
"We use the cameras for various purposes in our construction project management—from monitoring construction build-out, to remotely checking into site inquiries and managing crews," explained Brett Whittman, a construction project manager for Sephora's cosmetic retail store. "It is an exceptionally valuable asset in terms of resources, budget, and time management."
First and foremost, construction cameras help retailers open stores faster. If a retailer sells thousands of dollars in products daily, opening earlier is an appealing proposition.
Construction cameras also allow for just-in-time delivery of fixtures and products by giving team members real-time views of contractor and supplier activity. Cameras not only let users see when expensive fixtures have been delivered, but they also help verify the materials are being handled properly. A typical national retailer might have a dozen build-outs happening at the same time, and the ability to monitor and manage scheduling of materials delivery and co-ordination of subcontractors—all while optimizing jobsite travel—is an immediate advantage. Project managers in the retail build-out space are no strangers to travel, but being able to schedule site visits more effectively is an appealing prospect.
"A construction camera is a good tool for making sure certain target dates are attained by our general contractors," said Whittman. "Further, seeing the jobsite 'live' gives a better perspective on progress. Our original intent was finding creative solutions for budget management, however, we have seen benefits in time management as well, which ultimately impacts our bottom line."
Maintaining order in a crowded workspace
At any given time, a retail space may have five different subcontractors represented, each with as many as five people working in a small area. A clean, well-organized space is more productive and reduces the potential for damage to products when they arrive onsite. Interior build-out managers put a lot of responsibility on their contractors to maintain an orderly project, and construction cameras ensure those expectations get communicated in real time.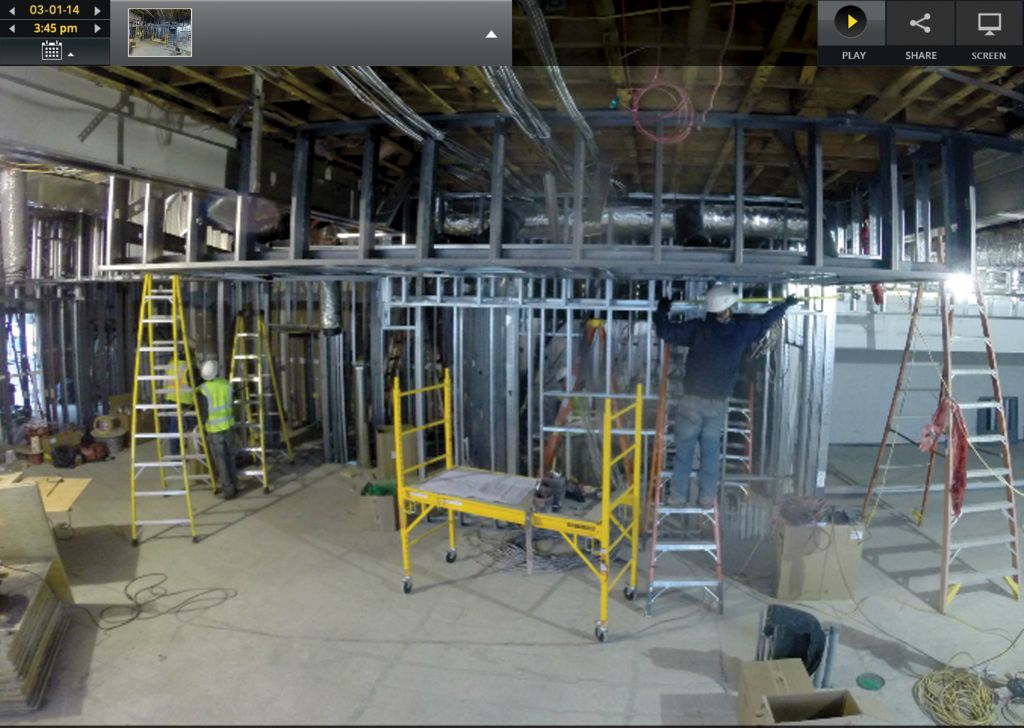 For example, use of a time-lapse interior construction camera could show a mobile device retailer that power outlets for merchandising displays were being installed at a height too low for the incoming fixtures. This level of construction management detail goes a long way to preventing costly mistakes.
Making team meetings more effective
Robert Hubbs is a solutions architect for Infinitus Enterprise Services Inc., where he provides digital marketing architecture services to retailers in Canada. Having used construction cameras for interior build-outs, Hubbs has seen firsthand how they quickly become an indispensable tool. In order to extract the most value from a camera, project teams new to the technology should be shown how to use construction camera tools for maximum impact.
"We use time-lapse video for our weekly steering meetings," said Hubbs. "Time-lapse video allows owners to be more comfortable with the money they put out. They like seeing how many times the forklift had to come in to drop steel. They get to see what is going on and how the project is unfolding. We also show visuals to the merchandising vendors so they can see how the store is coming along."
Users can retrieve archived images or view up-to-date time-lapse movies of an entire project, and cellular-based time-lapse service provides seamless data delivery. All images should be archived and managed in an off-site data centre, protecting sensitive information from disaster or security breaches. Managed correctly, virtually every moment of construction is available for immediate review, and the archives provide a permanent as-built record. When the project is completed, the high-definition time-lapse footage can be reviewed to determine what worked and what could be improved upon for the next project.
"Images have been used at meetings to virtually build a store in front of everyone's eyes in a matter of minutes. This makes quite a statement when our projects are 14 weeks in duration, particularly for those who are not in the construction industry," said Whittman. "It gives them a sense of what is involved and what it took to get there when they're walking into a new store."
Chandler McCormack is the co-founder of OxBlue. Previously, he spent 10 years as a civil engineer and land planner on projects with various commercial, industrial, and multi-family development companies. On those projects, he experienced firsthand the need for better communication and documentation among people on and off the jobsite. McCormack can be contacted by e-mail at contact@oxblue.com.


Control the content you see on ConstructionCanada.net!
Learn More.