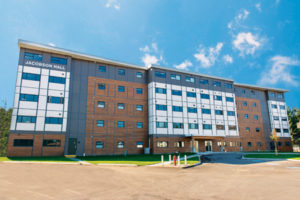 The Trinity Western University (TWU) in Langley, B.C. has one of the tallest wood-framed modular student housing complexes in the country. Completed earlier this year, the five-storey Jacobson Hall has added housing for about 220 students.
With enrolment of more than 4000 students, TWU's on-campus housing was available for less than 25 per cent of its students.
Therefore the school hired Metric Modular, a B.C.-based modular builder, to construct the 5000 m2 (53820 sf) student housing complex.
"The university needed more beds, and they needed them quickly," said Rodger McLean, senior manager of innovative solutions for Metric Modular. "TWU's construction timeline would have been impossible to achieve using traditional construction methods. Plus, they needed a customized solution with amenities that would satisfy students, all at a reasonable cost. Our ability to use wood in this modular context gave us the perfect solution to do the job."
The modules were built offsite in a climate-controlled factory providing workers with a quiet space and keeping construction costs at a predictable level.