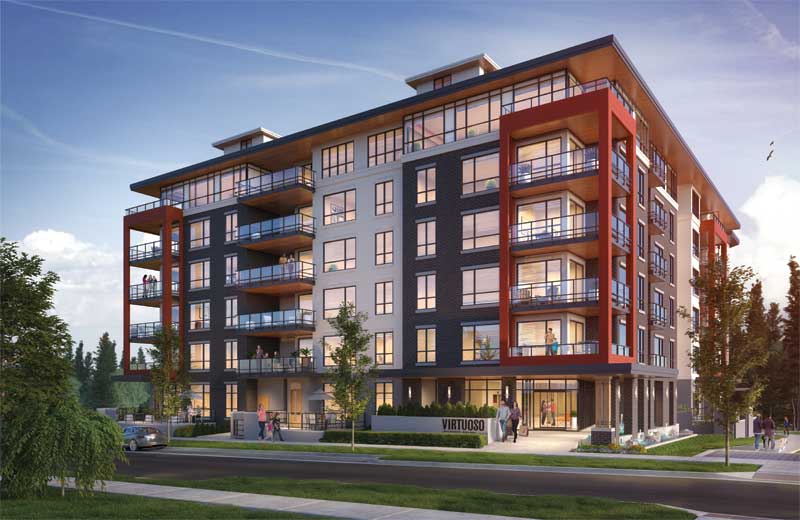 Virtuoso
Located on the University of British Columbia (UBC) campus, and scheduled for completion this year, Virtuoso—designed by Rositch Hemphill Architects with Wicke Herfst Maver as structural engineers—contains 106 condominium apartments in two buildings arranged around a central garden. The six storeys of wood-frame construction sit on top of a two-storey basement parking garage.
As both owner and contractor for the project, Adera Development Corporation chose to explore the possibilities of hybrid light wood-frame/mass-timber construction, recognizing that with further code changes imminent, this technology would soon find a broader application in buildings with a major Group D commercial occupancy.
The project combines light wood-frame walls, with cross-laminated timber (CLT) floors, roof, and elevator shafts. Additionally, glued-laminated timber (glulam) beams were used to support cantilevered balconies, also made from CLT. Exterior walls throughout the building, together with the interior loadbearing walls on the first four floors are of nominal 50 x 152-mm (2 x 6-in.) wood-stud construction. On the ground and second floors, the framing used is Douglas fir, whereas spruce/pine/fir is employed on the upper floors. All the lumber is dried to a moisture content of 15 per cent or less.
Interior demising walls, which perform as both fire and acoustic separations between suites, consist of two separate 50 x 101-mm (2 x 4-in.) wood-stud walls with a 25-mm (1-in.) gap between them. They are lined on both sides with two layers of 15-mm (5/8-in.) fire-rated drywall.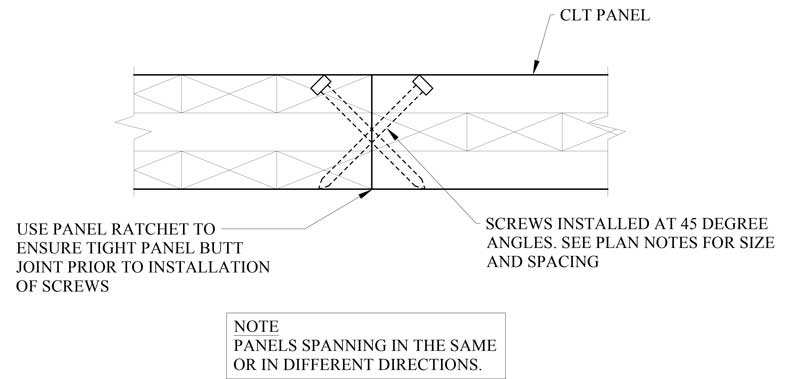 Rather than the familiar I-joist and plywood floors that are found in most mid-rise wood-frame buildings, the floors in the Virtuoso project consist of three-ply CLT panels spanning either 2 or 4 m (9 or 14 ft) between the interior walls. The panels are 101 mm (4 in.) thick and 1 m (4 ft) wide. Their adjacent long edges are stitched together with closely spaced stainless steel screws set at opposing 45-degree angles in what is known as a 'dragon's claw' pattern
(Figure 9). The floor panels are concealed by a suspended ceiling below, and a hardwood or ceramic tile floor finish above.
The ends of the floor panels are supported either on the 50 x 152-mm loadbearing interior walls, or on the double-stud demising walls. In the latter case, a gap is left between the panel ends to maintain the discontinuity required for acoustic separation. (Figure 10).
Where required, interior loadbearing walls were topped with a glulam beam projecting approximately 2 m (6 ft) beyond the building to support exterior balconies. This detail is similar to the one described previously for King Edward Villa, but here the balcony floors are made from CLT panels.
Three-ply CLT was also used for the walls of the elevator shafts. These panels are set vertically and, like the floor panels, connected with a 'dragon's claw' arrangement of screws.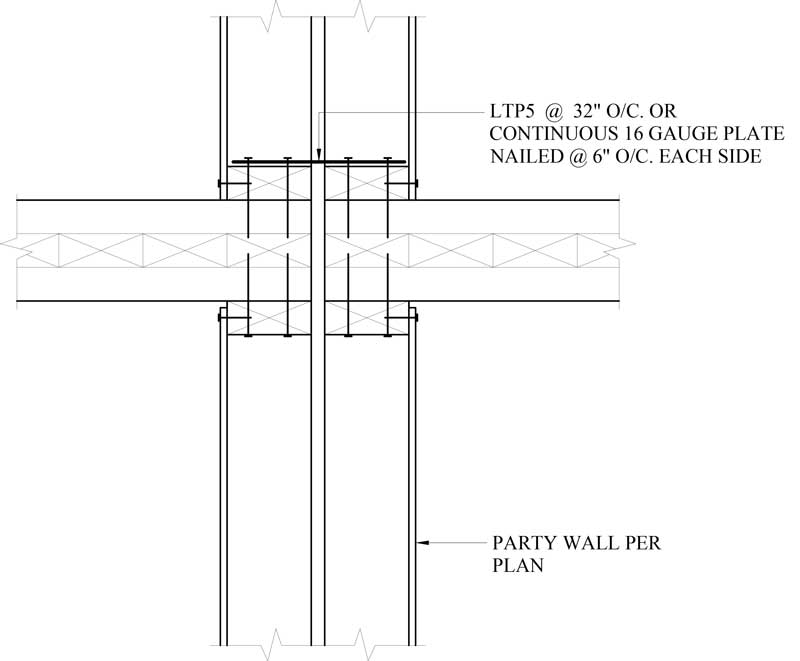 Considerable time was expended at the design development stage to optimize panel layout and dimensions and details, as well as to minimize waste and maximize economy and efficiency. A 3-D model was produced to identify each individual panel, its place within the building, and the location of any holes needed to be pre-drilled in the factory.
The Virtuoso project has demonstrated the use of CLT floor and roof panels in a hybrid mass timber/light frame application can offer shorter construction times. The just-in-time delivery and easy installation of the prefabricated panels can be quicker and more efficient than traditional site construction.
Conclusion
Since its introduction in the late 19th century, light wood-frame construction has continued to evolve—whether in response to new code requirements, technological advances, or market expectations. As a renewable resource that sequesters carbon and has low embodied energy, wood has an increasingly important role to play in the creation of high-performance buildings and more sustainable built environments.
Now, with wood construction recognized as a key component in the long-term mitigation of climate change, the technology is being asked to deliver larger buildings that are more durable and use less energy over their service life. (This is based on the 2007 fourth assessment report by Intergovernmental Panel on Climate change. Visit www.ipcc.ch/report/ar4.) As The Heights, King Edward Villa, and Virtuoso have demonstrated, light wood-frame construction, in pure or hybrid form, can meet or exceed these expectations.
Jim Taggart, FRAIC, teaches wood design  at the British Columbia Institute of Technology (BCIT) in Vancouver. He is also the editor of Sustainable Architecture and Building Magazine (SABMag) and the author or editor of more than a dozen books, including the award-winning Toward a Culture of Wood Architecture (2011). Taggart has also lectured extensively on the role of wood in contemporary architecture throughout North America, Scandinavia, and Australasia. He is a Fellow of the Royal Architectural Institute of Canada (RAIC) and the recipient of the 2012 Premier of British Columbia's Wood Champion Award. He can be reached at architext@telus.net.

Control the content you see on ConstructionCanada.net!
Learn More.