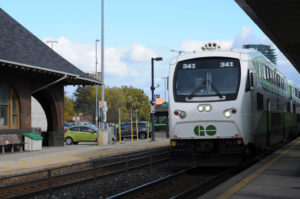 ONxpress Transportation Partners (ONxpress) will work with AECON on the GO Expansion On-Corridor Works project, which will expand transportation qualities in the Greater Golden Horseshoe area.
ONxpress has executed an agreement with Infrastructure Ontario (IO) and Metrolinx to deliver the multi-billion-dollar project under a progressive design, build, operate, and maintain (DBOM) contract model.
The contract begins with a two-year collaborative development phase to finalize the scope, commercial structure, and pricing of various elements of the project. Operations and maintenance are anticipated to commence upon completion of this period, and further information on the contract value and schedule will be disclosed following the development phase.
System-wide infrastructure upgrades will include adding 205 km (127 mi) of new track, electrifying 687 km (427 mi) of the rail network, significant enhancements to platforms and tracks at Union Station, building new maintenance and storage facilities, and installing train control and signaling systems to enable more frequent service. The scope of work will also include upgrading and constructing new bridges, level crossings, grade separation structures, drainage systems and significant earthworks.
Upon taking over operations and maintenance responsibilities, ONxpress will be responsible for providing expanded train service across the rail network, including major improvements to the existing timetable planning, operating train services including crewing, as well as maintenance of fleet, facilities, train control and electrification systems.