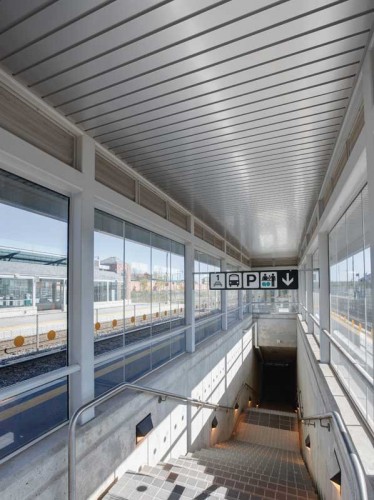 By Edward Williams
Metal ceiling systems are gaining popularity in commercial ceiling markets because they not only conceal, but also attract attention with dramatic designs and decorative flourishes. The systems meet rigorous performance requirements for acoustics, wind loads, humidity, fire, earthquakes, and sustainability; they also provide access to mechanical systems and low-maintenance reliability.
Many contractors appreciate these cost-competitive systems and their ease of installation, contributing to labour savings and on-time completion. Architects and designers enjoy the creative potential and customization. Specifiers, meanwhile, are challenged to balance all the features and benefits to determine the optimal system.
A brief history
In 16th century Europe, decorative ceilings began appearing with plaster coated over structural framework. Considered to be a cost-prohibitive luxury, they were reserved for wealthy estates and public buildings. Reflecting the grandeur of these prestigious spaces, plaster ceilings evolved into a decorative art form. Even apprentice plasterers were taught how to design and craft cornices, rosette, and other details. Artisan plasterers excelled at intricate ornamentation.
Pressed metal ceilings, known as 'tin ceilings,' were introduced in the second half of the 19th century as an affordable alternative to artistic plaster. Tin ceiling panels and accessories could be mass-produced at a fraction of the cost, and installed in a fraction of the time, compared to plaster. Similar to plaster, cornices were used to finish the perimeter of the tin ceiling-to-wall transitions.
Many historic tin ceiling patterns are still available. (For more on tin and faux-tin ceilings, see "Decorative Ceiling Panels: Opting for Metal or Styrene Design," by Jeff Fuller, in the March 2012 issue of Construction Canada. Visit www.constructioncanada.net and select "Archives.") These original ceilings were the 'nail-up' variety, meaning they were installed with nails over wooden furring strips. This method is used today, but a 'lay-in' style also was developed to interface with ceiling suspension systems. Typically, pressed metal ceilings offer no acoustical absorption. Some manufacturers now provide patterns with perforations to address this issue.
Office space designers in the 1950s were inspired to use lay-in metal panels as 'drop' ceilings. This became the preferred method for concealing HVAC, power, and signal distribution equipment. The drop ceiling is characterized by a grid suspension system of metal 'tees' with acoustical panels placed within the system modules. Along with the acoustical panels, the ceiling suspension became the support for air diffusers, lights, and other devices.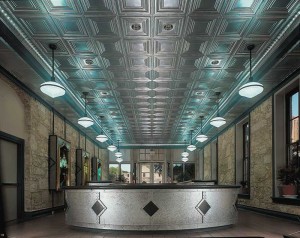 Metal panel ceilings
Designers quickly learned the advantages of substituting metal panels for soft mineral board panels and fibreglass panels in the lay-in systems. Metal ceilings proved to be more durable in public areas than 'soft' panel ceilings. Today, the lifespan of a properly maintained metal ceiling is five to six times the longevity of cellulose-based ceiling panels.
Contributing to the long life of metal ceiling panels is the fact they do not absorb water like mineral-fibre ceiling panels can. Absorbed water may lead to the growth of unwanted mould and mildew, factors in sick building syndrome (SBS). In some regions, where high humidity is unavoidable, excess moisture may lead to sagging in mineral-fibre panels. This can be critical for healthcare facilities, food-processing centres, laboratories, and other places where wellness and cleanliness are essential.
Metal ceiling systems also can provide a high level of acoustical absorption using perforation and acoustical material behind the panels. When using perforations, it is advisable to include a border around them. This prevents bending the panel edge where a row of perforations occurs. Metal panels can be manufactured with square edges to lay-in to a grid, or they can have reveal edges for a more decorative look.
Metal ceilings offer designers other esthetic advantages as the variety of finishes is greater than with white, acoustical mineral board. Like these 'soft' systems, metal ceiling systems also can be installed in pods or clouds.
A variation to the lay-in system is the 'snap-up.' This system hides the suspension grid, provides very tight joints, and can offer a high degree of security. Like lay-in panels, snap-up metal panels can be perforated for acoustics. Perforated panels can be manufactured with holes so small as to appear solid, or can incorporate variable-sized holes to create:
patterns in geometric shapes;
directional wayfinding signage;
logos and illustrated team mascots; and
photographs.
The strength of snap-up systems and their metal panels makes them a reliable choice for challenging interior designs, as well as exterior applications. When used outside the building, it is highly recommend a wind load test report be requested. Exterior wind load requirements are dictated by local code.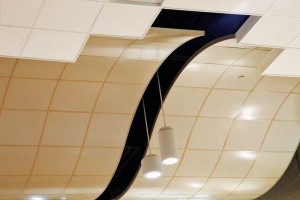 Many manufacturers have data available for positive wind-load testing. To truly evaluate the ceiling system's performance, specifiers should request the manufacturer's proprietary test data for both positive and negative wind loads. This will reveal how the product performs in sustained and reoccurring winds, such as in coastal regions or mountain ranges. These same considerations must be given to certain other applications such as subway stations, tunnels, and passageways between buildings.
Design considerations
When designing with metal ceiling panels, there are additional factors to take into account. The most common—and least expensive—sizes are 2 x 2 ft and 2 x 4 ft. In Canada, it is important to remember there can be a difference between 'hard' and 'soft metric.' In other words, a standard 2 x 2-ft Imperial-sized panel may be provided as a soft metric 610 x 610-mm panel. However, a hard metric panel may be 600 x 600 mm in size. If the contractor orders Imperial-sized lighting fixtures and air diffusers, they will not fit into the metric-sized modules. Someone in the process has to check to see what modules are designed for the ceiling.
Another consideration involves the suspension system (i.e. lay-in or snap-up), which is selected for esthetics, maintenance, and possible security requirements. In some areas, seismic-rated suspension may be necessary. During January through April 2012, six provinces and territories recorded earthquakes. The largest magnitude events this year have occurred near Vancouver Island. Designers of ceilings in buildings in the Territories and along the southeastern border are advised to keep earthquakes in mind.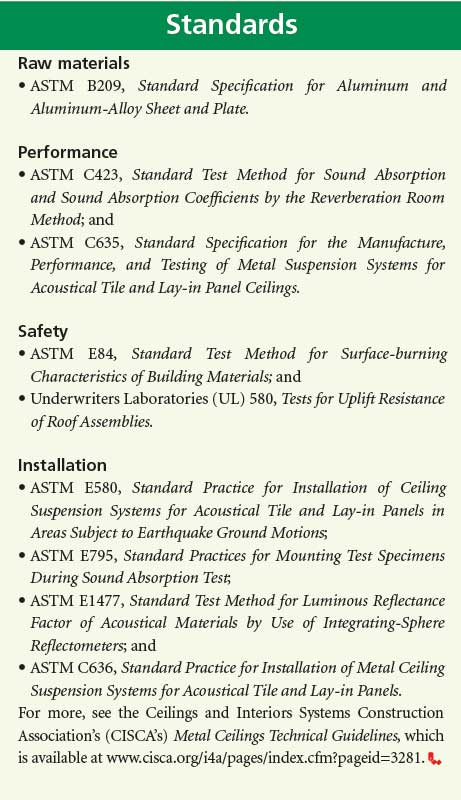 Solid or perforated panels can be an esthetic decision, but most often involves acoustic issues. Solid panels with no perforations offer no acoustical absorption; they reflect sound. Generally, a perforated panel with a non-woven backer will absorb 65 per cent of the sound striking it. This can be expressed as a noise reduction coefficient (NRC) of 0.65. That same perforated panel with an encapsulated fibreglass pad, in lieu of the non-woven one, absorbs about 90 per cent of the sound striking it, for a 0.9 NRC. The perforation pattern and resulting open area are the biggest factors in achieving this. To put this in perspective, standard 16-mm (5⁄8-in.) mineral board panels generally offer 0.55 NRC, while higher-performing acoustical tile will range from 0.75 to 1.00 NRC.
The material choice depends on the application, and may be influenced by green building goals. Steel is only suitable for interior use and must be painted or clear-coated, and contains a minimum of 25 per cent recycled content. Aluminum may be used in either interior or exterior applications, and can contain 100 per cent recycled content. Typically, aluminum panels with the highest recycled content are painted to hide any imperfections and inconsistencies in the material.
The finish on a metal panel is an esthetic choice. Baked enamel and powder coat paints can be selected in nearly any colour, including metallics and simulated wood grain patterns. Simulated wood finishes on metal provide the appearance of real wood in a much more durable material that can also provide acoustical performance. Natural wood veneers with various stains and finishes can be requested, and brass and chrome plating may be available. Regardless of the technique, specifiers should also give attention to matching the finished panels with trims, suspensions, and accessory items to ensure the desired look. This is especially true when systems are to be curved or custom panels and trims are being created.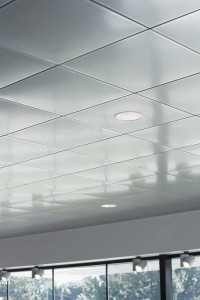 Linear metal ceilings and open-plenum systems
Linear metal systems were developed in the 1960s to add design elements to commercial spaces' ceilings. They are typically flat, but can be curved by using different suspension methods. The width is an esthetic choice; length is usually the main focus. Commonly, they are specified for long (linear) building applications, such as airport terminals and corridors.
The spacing between the linear panels may be determined by numerous factors, balancing both form and function. If the space between the panels is closed, one must also consider whether the 'filler' should be integral to the panel or installed as an applied accessory item.
As with metal panel ceiling systems, linear metal systems can include perforations and insulation for acoustical absorption, and they are available in myriad sizes, materials, and finishes. They may be used inside or outside, and can extend from the interior through to the exterior soffits. Many designers like the visual continuity this provides, particularly in highly transparent buildings with large glass openings. As with other exterior ceiling applications, it is important to remember to request a positive/negative wind-load test report. On the interior, one must be aware lights and air diffusers must be specifically designed for use with linear systems.

Control the content you see on ConstructionCanada.net!
Learn More.