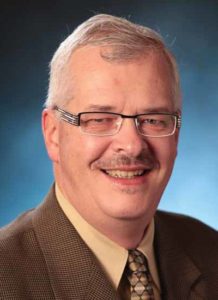 by Paul Gerber
It is hard to believe this will be my last President's Message. Yet another CSC program year has flown by. It seems like it was just yesterday we were all packing our suitcases to return home from the annual conference in Edmonton. Now, the pilgrimage to Regina is just around the corner! I hope you have registered and booked your flights and hotel; trust me, you do not want to miss this event.
The year has been jam-packed once again, not only at the national level, but also at the chapter levels. Congratulations on another successful CSC year to everyone who got involved in the past 12 months and to the many successes we have celebrated across the country.
CSC's Principles of Documentation (PCD) course has now been integrated into five college curricula in Ontario and Manitoba. With an organized plan in place, we will be looking to expand this number over the next couple of years. What better way to improve the knowledge of our future leaders than through a grounded understanding of the community they will become a part of, how it works, and industry best practices?
Our hardworking member volunteers on the various Canadian Construction Documents Committee (CCDC) working groups continue to contribute to the improvement of construction contracts as well as guides and other documents that help us use them correctly. To a great extent, they are the behind-the-scenes' CSC heroes. So, I would like to personally thank Walter Strachan, FCSC, RSW, Mila Legge, RSW, and Gary Hartman, RSW, for their years of dedication to this never-ending endeavour!
CSC would accomplish less without the hard work of our Board of Directors and Executive Council. I have been fortunate to serve with several great leaders and industry experts from myriad fields over the past seven years. I still call on many of these people for advice or perspective, not only with CSC business, but also my own project work. It has been an honour and privilege to serve alongside all of you. Congratulations on jobs well done. I leave you in the capable hands of Greg Hofsted of the Winnipeg Chapter and look forward to the year under his leadership.
Finally, it was very encouraging to see more interest from members in stepping into a national leadership role with CSC. This is the first year since 2011 that we had an election for the fourth vice-president position (Peter Emmett, FCSC, CCCA, won in 2011). Congratulations to all the four nominees who put their names forward! Unfortunately, only one person can be elected and all four would have served the association well. For those who are unsuccessful in this bid, do not give up hope. Put your name forward again next year! We still need your continuing contribution.
I look forward to seeing everyone in Regina! Come out and help celebrate another successful CSC year!