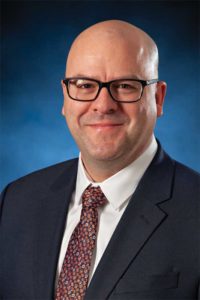 By Wyatt Eckert
As we move into the holiday season, it is worth a pause to thank our association office. It is thanks to the tireless efforts of Nick Franjic, Clafton A. Fiola, and Brad Noble that we continue to be an industry-leading association. I can think of no better cheerleaders for CSC than this trio.
The everyday administrative tasks of the association office are too often taken for granted and underappreciated, but that is, of course, a result of the efficiency and no-drama approach of these three individuals. Meeting the requests and expectations of over 1600 members is no small task for this team.
Clafton, with over two decades at CSC, makes the chaos of the conference and education portfolios look like a walk in the park. The relationships he fostered over the years with sponsors have allowed CSC to host great conferences year after year. The cancellation of the 2020 conference was a huge disappointment to Clafton, as he did not want to let his sponsors or CSC down. His dedication to his work and CSC has been proven time and again through not just conferences, but also the education portfolio. Clafton does not like the spotlight, does not look for credit for a job well done, but does take the responsibility when things are not just right. Call him 'Steady Eddy' for his unflappable calm.
Brad originally joined CSC on a full-time basis in April 2003 with focus on membership and client services. Throughout his time with CSC, he has and continues to provide an elevated level of service not only to our members, but also to all CSC customers. While he ensures chapters are kept informed of new members and changes to their membership, he takes great pride in the annual membership directory—he is responsible for the advertisements in the directory. You are sure to get a warm greeting from Brad whenever you interact with him.
The office is led by our executive director Nick Franjic. Nick's strong leadership through the COVID crisis has ensured the continued efficient and effective function of the association's executive council, board of directors, and office. I would personally like to acknowledge Nick's mentorship of all executive council and board members. He is like a zookeeper, and we love him for it! He is far too humble and gracious to dwell on such compliments, but that does not mean we should not heap them on him. Past-president Peter S. Emmett noted in his January 2016 message, Nick is "the tallest freestanding executive director in the world." Add to that, he is one of the most generous, truly caring persons you will have the privilege of knowing, and I do not envy the individual who may one day have to fill those shoes!
During these particularly difficult and anxious times, do not hesitate to let these gentlemen know what a terrific job they do and how much we appreciate them!
Stay healthy, stay safe, stay CSC!