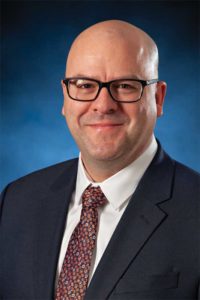 By Wyatt Eckert
As echoed by many of my predecessors, my term as president went by too fast. The last 12 months have, in some ways, felt like 12 weeks. That said, it is remarkable to remember where we were just one year ago and how much our lives have fundamentally changed for the foreseeable future. Opinions and perspectives continue to bend with unprecedented fluidity—the paperless office is truly here, work from home policies are here to stay, business travel is forever changed, and engagement has a new platform.
Through creative solutions we were able to stay connected with virtual town halls, website updates connecting all chapters, online learning, webinars, award ceremonies, and a virtual Annual General Meeting (AGM).
Throughout the year there was a focus on engagement and deliberate participation by membership. It was inspiring to see members who rolled up their sleeves and got to work transitioning from spectators to participants. We gelled and pushed through extraordinary circumstances with renewed excitement, enthusiasm, and appreciation for our organization.  Together we have created new ways to spread our message and deliver our best efforts. As we move through 2021, we will continue to enhance membership value on this uniquely national platform.
While at times I expected my role was to motivate, inspire, and lead, I often drew inspiration and energy from those around me. It has been a privilege to work with such a diverse and talented team of vice-presidents who bring such energy, perspectives, and zeal to every topic. I was fortunate to have been aligned with such an all-star roster. I could provide full articles on each member I was honoured to work with, but I will instead leave that praise for the next time we are able to speak face to face. I can only anticipate what our next in-person conference is going to look like.
While I have the opportunity and platform, I would also like to thank my partner Carla, my dear kids, Austin and Ella, friends, P3A colleagues, all the fine folks at Kenilworth, the board of directors, and association office who have all been so supportive of my time on the executive council.  But above all, thank you to the members who make this organization so great. We understand there are many opportunities for membership elsewhere and your hard-earned dollars were at a premium like no other in 2020.  Thanks for sticking with us.
In closing: the best of CSC was on full display in 2020.