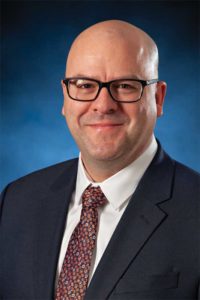 By Wyatt Eckert
In an attempt to get ahead of my presidential messages, I laid out an entire year's worth of topics, ideas, notes, content, schedules, and even titles! COVID-19 upended my plans. The title for this message feels remarkably irrelevant now.
The content of this message is based on a CSC Regina Chapter dinner meeting held earlier this year where a panel discussion was held on the state of the industry. This was followed by a Q&A period for the nearly 40 Saskatchewan Polytechnic students in attendance. The panel was a remarkable cross-section, representing interior designers, architectural technologists, building owners, contractors, engineers, and architects. It was one of the most engaging dinner meetings in recent memory. I periodically scanned the room, and noticed no one was checking their phones or chatting with table neighbours—remarkable in the age of 'who just tweeted what!'
Of all the topics covered, a statement by one of our longest-serving members, Bob Friesen, struck me as remarkably accurate: "As much as we think things have changed…it has not," he said.
How can that be when the panel just spoke about all the changes in the industry, such as computer-aided design (CAD), building information modelling (BIM), e-mail, virtual plan rooms, databases, etc.?
Bob continued, and I am paraphrasing here: Clients still want everything quicker and cheaper. Contractors still complain about the lack of co-ordinated information on the drawings and in the specs. Consultants complain about contractors not understanding their intent. Nothing has changed; it is still about communication and relationships.
How accurate is that?! Now more than ever, we have an opportunity to reset and refocus on the value of communication and community. Coincidentally, and as addressed in previous messages, these are two of the most important factors in engaging the membership.
In the age of COVID, we are still relying on communication and our communities, and we should take great comfort in this. Some of the means and methods of our daily tasks have been altered, but our industry has always faced varied challenges. The important thing is CSC is adaptable, fluid, and agile, and we will continue to engage our members with a focus on communication and community.
Stay healthy, stay safe, stay CSC!