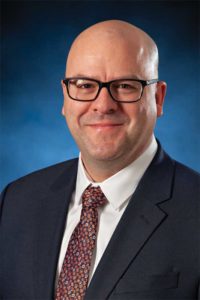 by Wyatt Eckert
It is a sincere honour to address the membership of CSC as president, and through this publication!
While attending the CSC Building Expo in Toronto in February, I was asked by a number of people what my first message was going to be and did I have a theme or focus for my term. I did not have a decisive answer, but I have given it much thought since then.
The suggestion of introducing me or providing an insightful story about me seemed like a reasonable first message. Unfortunately, I only have two good stories and they both involve the Green Bay Packers, the NFL team—spend an hour with me in a social setting and I am bound to share both of them!
Turning my focus to an introduction, I vaguely remember a dinner meeting I attended a few years after graduation, somewhere in the mid- to late-1990s. I do not remember the topic, location, why I went, or with whom, but I do recall a couple of people in attendance that night! It was the people and connections I made at these meetings that had me returning faithfully to events for the next few years.
Life took over, as it does, and I could not regularly attend CSC dinner meetings. This was not the best decision, I confess. It was not until quite a number of years later, when I was invited to take on the Saskatchewan Chapter newsletter and website that I returned with purpose. I was hooked. After holding sequential roles in newsletter, website, events, and education, I was asked to take on the positions of vice-chair, chair, and then chapter director. After a two-year term as director, I threw my hat into the ring for fourth vice-president, and was fortunate enough to join the executive council. The subsequent four years have gone by quickly. I enter my presidential term with great anticipation, ready to soak in every moment.
I would like to thank Tim for getting me involved with CSC. Thank you for engaging a youngster with no experience, who had nothing more to offer than time and effort. Engagement: How is that for a theme?!