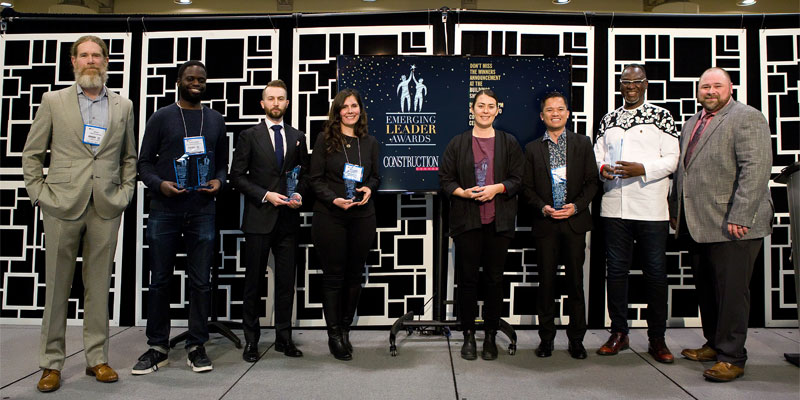 Earlier this year, Construction Canada opened submissions for its 3rd annual Emerging Leader Awards. The awards, presented by Engineered Assemblies, honour members of the architectural, engineering, and construction (AEC) community who demonstrate excellence, impress and inspire their co-workers, and are well on their way to becoming the next leaders in the profession.
The winners were honoured during a special ceremony held on December 3 at The Buildings Show in Toronto. Here are the winners of the 2021 Emerging Leader Awards.
Emerging Leader Awards – Leadership and Jury's Choice 
Dr. Henry Tsang, PhD, OAQ, MRAIC, LEED GA, WELL AP
Principal, Henry Tsang Architect; assistant professor, RAIC Centre for Architecture, Athabasca, Alberta
"It is inspirational to be part of a roster of the most talented, skilled, and accomplished young leaders in the AEC industry. I feel earnestly grateful because I know that every nominee was as deserving, if not more, of these awards. Therefore, I would like to take this opportunity to congratulate all the awardees and look forward to working hand-in-hand with this dream team to build a better world for all."
Emerging Leader Award – Initiative
Nicholas Kaminski, P.Eng., M.Eng., PMP
Structural engineer, KGS Group, Regina, Saskatchewan

"It is a distinct privilege and honour to be recognized for an Emerging Leader Award. There is no greater reward than being recognized by one's peers and I thank Construction Canada and the judges for their gracious decision. I am incredibly appreciative of the continued support and the nomination from my firm KGS Group."
Emerging Leader Award – Teamwork
Christopher Paul David, ARIDO, NCIDQ
President, David Visual Communications Ltd., North York, Ontario
"I thank those who nominated me, the Jury members who selected me, the other nominees, who no doubt, are equally worthy of this award.  I thank the AEC Community, Construction Canada, CSC, and the sponsorship of Engineered Assemblies and Kee Safety who, without their support, we may never know who our future leaders are!"
Emerging Leader Award – Technology Advancement
Kelsey Van Steele, P.Eng.
Associate, RJC Engineers, Vancouver, British Columbia
"This award is received with gratitude and surprise but is also a source of encouragement for the commitment to my practice. It is a true testament to the mentorship and collaborative network at RJC Engineers and something I could not have achieved without the support of the team around me.  My involvement with code committees through the CSA is something I take great pride in, so to be recognized for my contribution to the industry and standard development is a great honour."
Emerging Leader Award – Industry Contribution
Samuel Oboh, FAIA, FRAIC
Principal/vice-president, region 3, Ensight+ Architecture Inc., Edmonton, Alberta
"I was both humbled and pleasantly surprised when I heard that I had won the award for the Industry Contribution category. Yes, it really came as a surprise to me and I am grateful to Past RAIC President Randy Dhar, the RAIC, and to Construction Canada and the Engineered Assemblies for this most honourable award. I consider this award as a win for the architectural community in Canada as it helps to create greater visibility and awareness for the importance of architectural advocacy in enhancing people's quality of life."
Emerging Leader Award – Community Contribution
Elisia Neves, OAA, MRAIC, B.A.Sc. (Honours), M.Arch
Founder and CEO, Fabrik Architects Inc., Cambridge
"I would like to thank the selection committee for this recognition; this award has further encouraged me to continue the work I do. My vision when establishing my practice, Fabrik Architects Inc.  was to create an atmosphere where inspired design ideas can contribute to creating dynamic and diverse communities.  Our company's mission is to provide inspired design, for everyone, regardless of economic backgrounds, we believe that quality design ideas can, and should be incorporated into each project."
Thank you, jury members: Keith Robinson, RSW, FCSC, FCSI, associate at DIALOG's Edmonton studio; Corinne Golding, RSW, FCSC, an independent consultant; Steve Londry, LEED AP, principal of Construction Specifications Solutions; and Jeff Ker, senior technical advisor at Engineered Assemblies.