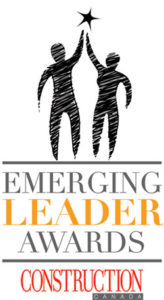 Construction Canada is pleased to announce the finalists of the 3rd annual Emerging Leader Awards, presented by Engineered Assemblies. The awards recognize young professionals for excellence in design, leadership, initiative, and/or service to the community.
Nominated by a member or members of their team, the finalists were selected by a jury of peers.
The finalists in the 'Demonstrates Initiative' category are Acacia Ashick, CAPM, construction project co-ordinator, Urbacon, Toronto, and Nicholas Kaminski, P.Eng., M.Eng., PMP, structural engineer, KGS Group.
Dr. Henry Tsang, OAQ, MRAIC, LEED GA, WELL AP, principal of his eponymous firm, Henry Tsang Architect, and assistant professor at RAIC Centre for Architecture, Athabasca University, as well as Vince Davenport, P.Eng., B.A.Sc., building & material sciences specialist, EllisDon Construction, have been selected as finalists in the 'Demonstrates Leadership' category.
Christopher Paul David, ARIDO, NCIDQ, president, David Visual Communications Ltd., and Faye Strong, B.Sc., BEDS, ALEP, learning environment planner, Archiasmo Architectural Works Ltd., were chosen for the 'Demonstrates Teamwork' category.
Finalists in the 'Technology Advancement' category are Andrew Fahim, M.Sc.Eng, manager of research & development, Giatec Scientific Inc., and Kelsey Van Steele, P.Eng., associate, RJC Engineers.
For the 'Community Contribution' category, Matthew Hickey, OAA, MRAIC, LEED AP, partner and lead design architect at Two Row Architect, and Samuel Oboh, FAIA, AAA, FRAIC, AIA principal and vice-president, region 3, Ensight+ Architecture Inc., were selected.
Elisia Neves, OAA, MRAIC, B.A.Sc. (Honours), M.Arch, founder and CEO of Fabrik Architects Inc., and Janice Mills, P.Eng., M.Eng., construction administration team lead/associate, DIALOG, were selected in the 'Industry Contribution' category.
The winners will be announced live on December 1 at 3:30 p.m. EST, as part of the Buildings Week.