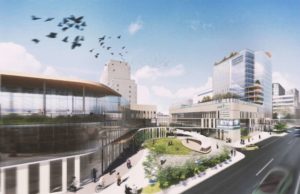 The Portage Place Shopping Centre in downtown Winnipeg will be redeveloped into a $500-million diverse three-part campus, connecting a healthcare centre, housing, retail, neighbourhood services, and urban green spaces.
The redevelopment, to deconstruct parts of the existing shopping mall and construct on over 139,355 m2 (1.5 million sf), will focus on connectivity, accessibility, and community. Extensive community and stakeholder consultation will be undertaken to reimagine Portage Place. The new complex will include green spaces, a multi-family, affordable, and student housing tower, as well as an urban health centre of excellence tower. While sections of the existing structure will be developed in stages, the finished project is planned to be one-third bigger than the current building.
The project will also include more than 0.81 ha (2 acres) of public and outdoor meeting space and provide more than 1,000 heated underground parking spaces.
When complete, the new space will connect communities from the former Hudson Bay Co. building, University of Winnipeg, and YMCA, providing amenities from physical fitness, childcare and community drop-ins, to arts and culture opportunities such as the Prairie Theatre Exchange.
The Manitoba government will support this transformation by making a long-term commitment to a massive health campus, providing wellness and community services tailored to the neighbourhood and urban population.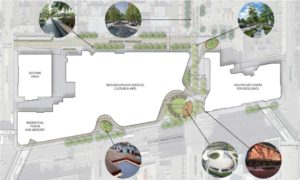 A major component of the health campus will be a more than $300-million urban centre for health excellence, providing clinical as well as educational and research space delivered by Shared Health and the Winnipeg Regional Health Authority (WRHA). The Pan Am Clinic will expand to become an anchor tenant.
The reimagined Portage Place was driven by listening to community members who identified four pillars for development including:
Health equity.
Neighbourhood spaces and public greenway.
Neighbourhood services, culture, and arts.
Housing and food security.
The project's developer, True North Real Estate Development, has the support of all three levels of government that make up The Forks North Portage Partnership to purchase the land by the end of 2023.
"For decades, Portage Place unintentionally created a barrier between north and south neighbourhoods that make up our downtown," says Mark Chipman, executive chairman, True North Sports + Entertainment. "Our goal is to transform it into a place that connects neighbourhoods, provides access to badly needed services, and has social and economic impact by building a sense of community mindedness.''