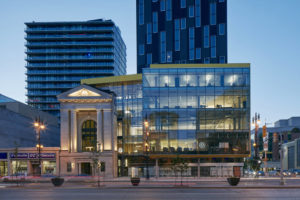 Manitoba and Canada both have green centennial milestones to celebrate—the province has completed its 100th project certified under Leadership in Energy and Environmental Design (LEED), and the country has finished its 100th project certified under the newest version of the program, LEED v4.
For Manitoba, this brings the provincial total up to 601,753 m2 (6.4 million sf) of LEED-certified space, with 72 of the 100 certified projects located in Winnipeg. In total, 16 of these projects are at the Certified level, with 41 achieving LEED Silver, 34 reaching Gold, and nine earning Platinum. They also span numerous project types, with 72 new construction (NC) or core and shell (C&S) projects, six commercial interiors (CI) projects, five existing building (EB) projects, and 17 homes (LEED for Homes) projects.
"I would like to congratulate Manitoba on earning its 100th LEED certification. Manitoba was an early adopter of green building and LEED, and we watched provincial and local governments, industry, and institutions embrace the idea of sustainability in building design and construction," said Thomas Mueller, CEO of Canada Green Building Council (CaGBC). "Building on the progress to date, Manitoba is well-positioned to move toward a low-carbon economic future by continuing to support rigorous green building programs like LEED through public policy. CaGBC is committed to working with government and industry for investment in low-carbon, sustainable, and healthy buildings in Manitoba."
Manitoba's 100th LEED-certified project is Stantec's new Winnipeg office, which was certified to LEED Gold for Commercial Interiors on June 27. The 5109-m2 (55,000-sf) achieves 91.33 per cent construction waste diversion and maximizes energy efficiency. Its installed lighting power density is reduced 36.7 per cent over American Society of Heating, Refrigerating, and Air-conditioning Engineers (ASHRAE) 90.1, Energy Standard for Buildings Except Low-rise Residential Buildings, and its water fixtures bring a reduction of 61.43 per cent under baseline.
"This excellent outcome in achieving LEED Gold certification in the Commercial Interiors rating system is the result of strong collaboration within our architecture, interior design, and engineering buildings team," said Eric Wiens, Stantec's vice president and regional leader for Manitoba. "I can't think of a better way to serve as a role model for our clients than to achieve this certification from CaGBC and to demonstrate our own high-performance design capacity right within our Stantec office in downtown Winnipeg."
Other Manitoban LEED-certified projects include Manitoba Hydro Place (LEED Platinum), the Sir Sam Steele affordable homes (LEED Gold), and Amber Trails Community School, which recently earned a 2017 CaGBC Green Building Excellence Award.
Canada's 100th LEED v4-certified project brings it to a total of 681,000 m2 (7.3 million sf) of LEED v4-certified space. Counting all versions of LEED, the country stood at a total of 7088 certified and registered projects as of the end of June.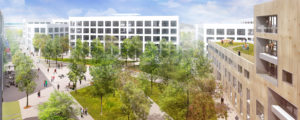 Since 2005, the effects LEED has had on the country are significant, including:
saving enough energy to power 31,500 homes for a year;
reducing 1.8 million tonnes of greenhouse gas (GHG) emissions—enough to equal removing 380,000 cars from the roads for a year;
diverting more than 2 million tonnes of construction waste (655,000 garbage truck loads) from landfill;
saving 17.9 billion L (4.7 billion gal) water, enough to fill 7000 Olympic swimming pools; and
creating more than 280,000 m2 (3 million sf) in green roof space, equal to 185 National Hockey League (NHL) hockey rinks.
"Canada is currently undergoing a massive shift as we move toward a low-carbon economy, with governments and industry alike recognizing that the time to act is now, and, as the most widely used rating system, LEED is taking on a prominent role in scaling up that transition," said Mueller. "While it's absolutely critical to address carbon as a key building performance metric, LEED v4 also provides a holistic approach to design, operations, and maintenance. For example, green buildings need to balance increasing energy efficiency standards with a healthy building design that provides fresh air, access to daylight, and views, along with nontoxic and comfortable environments, for building occupants."