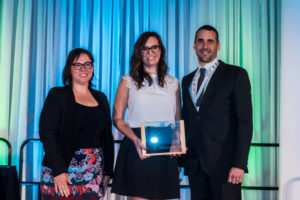 Sustainability systems in Canada may be about to experience a growth spurt, thanks to an agreement signed by Canada Green Building Council (CaGBC) and Green Business Certification Inc. (GBCI). The two organizations are collaborating on a venture called Green Business Certification Inc. Canada (GBCI Canada) to improve the country's green building services and rating systems.
Beginning next year, the joint venture will offer certification for:
Even with this new venture, CaGBC will continue to support its current offerings in education, research, business, certification, and the development of its new Zero Carbon Building Standard.
"The urgency of addressing climate change requires bold and innovative new approaches to doing business," said Thomas Mueller, CaGBC's president and CEO, who will also manage GBCI Canada. "Forming GBCI Canada is a critical step in CaGBC and GBCI's strategy to scale-up green building market transformation and impact. Members of CaGBC, and the industry at large, will benefit from this new organization dedicated exclusively to the delivery, enhanced service, and market support of a broader range of green business solutions."
Mahesh Ramanujam, GBCI's president/CEO, agrees.
"GBCI and CaGBC complement each other by bringing unique strengths to the joint venture that together will help accelerate market transformation one project at a time," he said. "CaGBC brings 15 years of green building expertise, market reach, and industry access earned through establishing LEED as the leading green building rating system in Canada, making them an ideal partner as we work to improve access to GBCI sustainability programs and resources. This longstanding partnership sets a fine example of how, together, we can achieve something bigger, and helps us to keep building."
This venture is not the only new thing on the horizon for CaGBC—it also introduced two new categories for its Leadership Awards at the Building Lasting Change conference in May. New and existing construction projects were recognized for Excellence in Green Building, while others were honoured for WELL Certification.
Amber Trails Community School in North Winnipeg earned the Excellence in Green Building Award for new construction, thanks to its significant reductions (decreasing water use by 50 per cent, energy costs by 65 per cent, and energy use by 68 per cent).
The category's award for existing construction went to the LEED Platinum-certified Vancouver Convention Centre, where Building Lasting Change was held. The facility's substantial vegetated roof—North America's largest nonindustrial assembly fully comprising native and adaptive species—is just one of the factors contributing to its high efficiency (44 per cent better than the average Canadian convention centre).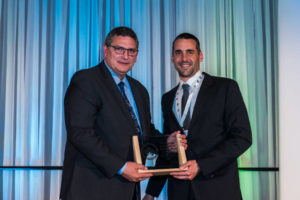 WELL-certified projects honoured at the ceremony included the Toronto Dominion Centre, Vancouver's MNP Tower, and CBRE's Vancouver office, all of which earned WELL Gold. The Dominion Centre was the first on the continent to achieve this accolade.
Winners in other categories included:
Stephen Carpenter, former president and founder of Enermodal Engineering (part of MMM Group), for Lifetime Achievement;
Dr. Janet Moore and Duane Elverum, co-directors and co-founders of CityStudio, for Inspired Educator Award;
Hilary Corneau, project delivery analyst with Brookfield GIS, for Emerging Green Builder;
the Government of Newfoundland & Labrador's Office of Climate Change Executive Council for the Government Leadership Award;
Wendy MacDonald, a sustainability consultant and professional engineer, for Volunteer Leadership–Technical Expertise;
Tony Iacobelli, manager of sustainability at the City of Vaughan, for Volunteer Leadership–Chapter;
David Ramslie, Integral Group's head of sustainability, planning, and research, for Green Building Champion;
Liviu Craiu-Botan, manager of energy and technical services at Oxford Properties Group, for Green Building Pioneer; and
Andrew Martins of the British Columbia Institute of Technology for Students Leading Sustainability: Andy Kesteloo Memorial Project Award.
"I am very pleased to recognize this year's CaGBC Leadership Award, Green Building Excellence winners along with the first wave of WELL-certified projects, who represent some of the very best minds, innovators, and projects in the Canadian green building industry," said Mueller. "I believe that individual leadership and commitment to effect change is critical in moving toward a low-carbon economy that will benefit all Canadians."