Managing noise in health-care facilities through flooring specification
by sadia_badhon | February 11, 2021 10:14 am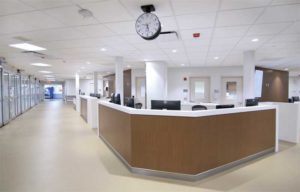 By Mark Huxta and Sharon Paley
According to the research paper, Shades of Florence Nightingale: Potential Impact of Noise Stress on Wound Healing, "Noise has long been recognized as an environmental stressor that causes physiological, psychological, and behavioural changes in healthy subjects. Environmental noise and its potential effects on healing and recovery are of special concern to nurses in hospital settings, where increased levels of noise and the effect of noise on patient sleep and cognitive function have been well documented in literature," (the paper was written by D.O. McCarthy, M.E. Ouimet, and J.M. Daun for the Holistic Nurse Practice in 1991).
Perhaps one of the most significant examples left behind by the founder of modern nursing, Florence Nightingale, was her commitment to patient care. She understood the importance of producing a state of mind and body conducive to healing. When it comes to designing the built environment in a way that promotes healing, the old adage of "out of sight, out of mind" rings true, as acoustics are too often neglected.
The World Health Organization (WHO) guidelines call for continuous background noise in hospital patient rooms to remain at or below 35 dB(A) during the day and 30 dB(A) at night, with nighttime peaks no higher than 40 dB(A) (for more information, consult the World Health Organization's [WHO's] guidelines for community noise. The dBA metric is the most commonly used one for noise control guidelines and regulations. It stands for A-weighted sound pressure levels. A-weighting is used to represent the human ear's sensitivity to various sounds.
To better improve the healing environment for patients and providers, health-care design professionals are now seeking materials with specific acoustic benefits. While noise is a subjective term and can be traced to a variety of sources (e.g. hallway conversations, footsteps, and rolling carts), hospitals and health-care facilities are working to implement sound control and mitigate sound transmission, as both play a key role in creating a healing space.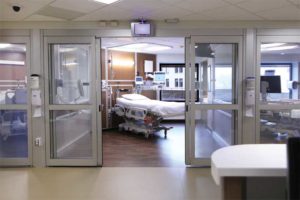 Impact of noise on patients and staff
A comfortable acoustic environment is vital to supporting the health, healing, and well-being of patients and providers. Patients' physiological health can be negatively affected by poor acoustics, inhibiting the healing process and increasing their chances for readmission. High noise levels can lead to patient annoyance, sleep disruption, elevated blood pressure, and decreased healing rates (read "Influence of intensive coronary care acoustics on the quality of care and physiological state of patients" by I. Hagerman, G. Rasmanis, V. Blomkvist, R. Ulrich, C.A. Eriksen, and T. Theorell). In terms of mental and emotional health, acoustics can impact how comfortable and secure a patient and their family members feel in the health-care setting. Noise is of particular concern in behavioural health facilities where there is a strong emphasis on creating a calm, quiet environment for patients. Loud noises[3] that startle patients or disrupt sleep can have long-term effects, while poor sound isolation can present a lack of privacy and also cause discomfort.
Similarly, patient care teams also feel the impact of poor acoustics. When completing tasks in a space with a high level of noise[4], providers may have to exert more energy to listen or be heard, which can cause fatigue and burnout. Speech intelligibility is imperative in a health-care environment, and extraneous sounds can impede providers' abilities to understand and quickly respond to a variety of auditory signals, such as conversations, alarms, and other equipment, which directly affect patient care and human error.
When the health-care environment is finished with sound-reflecting materials or designed without acoustics in mind, discussions among patients and providers can easily carry into other areas and be overheard by an unintended listener. Poor acoustic design increases the risk of noncompliance with privacy regulations.
Different design strategies and technologies can be used to quiet the healing environment and minimize the transmission of sound from adjacent spaces. Acoustical ceiling tiles and wall panels aim to protect patients and providers from extraneous noise by absorbing sounds from a variety of sources rather than reflecting them back into the environment. Another often overlooked component is flooring surface technology that offers noise reduction without sacrificing cleanliness or ergonomic comfort.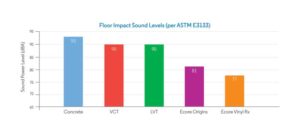 Beyond carpet and tile
In the health-care environment, hygienic and easy-to-clean flooring is a top priority, prompting most designers to select hard surface materials for durability and cleanability. Constant foot traffic and the movement of equipment along these surfaces, however, create loud noises throughout the facility and impact patient satisfaction. Opting for a carpet or other fibrous material that reduces floor impact sound, on the other hand, can raise concerns of cleanability as well as increase risks of tripping and catching when rolling carts.
Recent technology has resulted in a third option—fusion-bonded resilient flooring—that marries the hygienic benefits of a hard surface with the acoustic and ergonomic attributes associated with carpets or other textile surfaces. The flooring option consists of a vinyl surface fusion-bonded to a vulcanized composition rubber performance backing. These materials reduce floor impact sound while providing supportive cushioning underfoot to drive safety and comfort. The fusion-bonded flooring also offers a wide variety of design and colour possibilities, such as wood-like surfaces or modern finishes, without sacrificing the performance benefits of rubber flooring. These resilient flooring options are helping to create more comfortable and effective healing environments for patients and providers.
In-room impact noise
In health-care environments where the staff is constantly in motion, flooring impact sound from rolling carts, footsteps, and dropped items can be a major source of noise. These sounds are often sudden and unpredictable, making them harder to tune out than more consistent ambient sounds like those from the heating and cooling system. Flooring impact sounds can be reduced by selecting the right surfacing.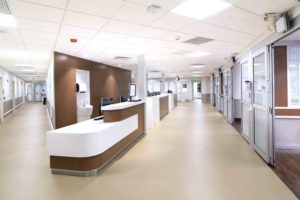 Noise has been a known issue in the health-care environment for years, and many organizations have developed standards and guidelines to help address this problem. For instance, guidelines from the Facilities Guidelines Institute (FGI) set forth maximum design criteria for noise in interior spaces. However, these standards are often for building systems and based on unoccupied rooms. Therefore, they do not consider all foreseeable noises, such as footsteps.
Introduced in 2018, ASTM E3133, Standard Test Method for Laboratory Measurement of Floor Impact Sound Radiation Using the Tapping Machine, helps address this gap and provides the health-care designer with a key acoustic metric for the healing environment. Testing to ASTM E3133 allows architects and designers to make an impartial comparison of the performance of various materials. ASTM E3133 tests sound generated within the same room as the impact source, and not through the floor assembly into the room below.
To compare how different materials on flooring impact sound, Intertek was tasked with measuring the performance of five floor finishes according to the new standard. They included bare concrete, 3-mm (188-mils) thick vinyl composition tile (VCT), 4-mm (157-mils) thick luxury vinyl tile (LVT), cork blended with vulcanized composition rubber (3.2 mm [126 mils] thick), and vinyl surfaces fusion-bonded to a vulcanized composition rubber backing (2-mm [79-mils] thick sheet vinyl on 5-mm [198-mils] thick rubber). The fusion-bonded vulcanized composition rubber backing works as an acoustical underlayment. The main benefit by using a factory-fused acoustic layer is that it allows one to use different types of flooring products with a thicker underlayment than possible when installing a field-applied layer (finished flooring and acoustic underlayment).
Intertek's testing shows concrete recorded the highest floor impact sound level of 93 dB, followed by generic VCT and LVT at 90 dB. In contrast, vulcanized composition rubber with cork tested at 81 dB, nine dB lower than VCT and LVT, almost 50 per cent quieter. Finally, vinyl fusion-bonded to a vulcanized composition rubber backing had the lowest impact sound level at 77 dB—13 dB below VCT and LVT. A 13-dB decrease in noise level is equivalent to two-and-a-half times of relative quietness in terms of perceived loudness.
Testing also found the floor impact sound levels for vulcanized composition rubber with cork as well as vinyl fusion-bonded to vulcanized composition rubber were below the floor impact sound levels for a bare concrete floor at all frequencies. Floor impact sound levels for these two surface types were also below the VCT and LVT levels at almost all frequencies. At high frequencies, VCT is as much as 24 dB (more than four times) louder than vinyl surfaces with a vulcanized composition rubber backing.
Testing showed vulcanized composition rubber with cork and vinyl with a vulcanized composition rubber backing significantly reduced the 'click' (high frequency portion) of footsteps that is prominent with high-heels and hard-soled shoes on hard floor surfaces.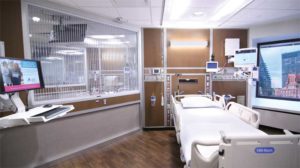 Impact sound transmission
Testing of in-room flooring impact sound is fairly new, but the testing and analysis of impact sound transmission from a room above to a space below has been common for decades. Common industry standards used to determine the severity of impact noise transferred from a source room to a space below are impact insulation class (IIC) and delta impact insulation class (ΔIIC) ratings. These standards play a key role in determining the effectiveness of flooring and flooring underlayments when addressing impact sound transmission from footsteps, rolling carts, and dropped items.
IIC ratings depend on the design and construction of an entire floor/ceiling assembly, but they can be improved significantly with the right selection of flooring and/or acoustical underlayments. Higher IIC ratings mean lower noise levels in the room below.
Where IIC ratings measure the performance of an entire floor/ceiling assembly, ΔIIC ratings just measure the impact insulation performance of floorcoverings and underlayments when tested on a standard 152-mm (6-in.) concrete slab. A ΔIIC rating is essentially the difference in IIC ratings between the bare 152-mm concrete slab, and the 152-mm concrete slab with the flooring and underlayment. For example, if a bare 152-mm concrete slab has a rating of IIC 29 and the addition of flooring and underlayment result in an IIC 52, the ΔIIC rating would be 23. Since ΔIIC ratings are based on a standard 152-mm concrete slab, they provide a better apples-to-apples comparison of the impact insulation provided by flooring and underlayment. However, when comparing underlayments, it is important to note the finish floor tested on top of the underlayment also affects the ΔIIC rating, so it is advisable to only compare underlayment tests using similar finish flooring materials.
The single composition material allows for improved acoustic performance due to the capability of using a thicker underlayment. This allows one to combine a thicker underlayment with sheet vinyl (or another top layer material) and receive the performance benefits of both the vinyl and the underlayment.
Conclusion
Loud sound levels can have a negative impact on patient wellness, health-care provider efficiency, and overall quality of care. To reduce sound levels and improve patient experience and outcomes, many health-care facilities are looking to update their site designs and building materials, including flooring selections. When evaluating health-care flooring options, it is important to consider reducing noise levels while maintaining high standards of cleanliness to provide safety and comfort to patients and health-care providers. Studies show resilient flooring surfaces with rubber underlayment improve acoustical issues without creating a hygiene risk. These materials contribute to a quieter environment more conducive to healing while supporting health-care providers in their delivery of quality care.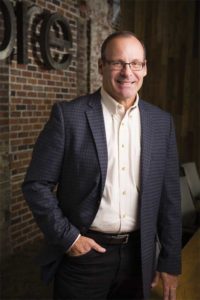 [8]Mark Huxta is the director of healt-hcare sales for Ecore. An industry veteran with more than 40 years in the flooring industry, Huxta offers extensive experience and knowledge to his clients with a focus on issues affecting patients, residents, and health-care providers. He was a founding board member of the Delaware Valley Green Building Council and is a member of the HealthPoint Advisory Board. Huxta can be reached via e-mail at mark.huxta@ecoreintl.com[9].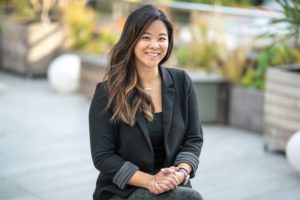 [10]Sharon Paley was formerly an acoustic engineer with Ecore. She graduated with a master's degree in mechanical engineering from Boston University and is a full member of both the Acoustical Society of America (ASA) and the Institute of Noise Control Engineering (INCE).
Endnotes:
[Image]: https://www.constructioncanada.net/wp-content/uploads/2021/01/5111_N162.jpg
[Image]: https://www.constructioncanada.net/wp-content/uploads/2021/01/5111_N163.jpg
Loud noises: http://www.psqh.com/marapr05/noise.html
high level of noise: http://www.psqh.com/marapr05/noise.html
[Image]: https://www.constructioncanada.net/wp-content/uploads/2021/01/Ecore-FloorImpactSoundLevelsBarChart.jpg
[Image]: https://www.constructioncanada.net/wp-content/uploads/2021/01/5111_N158.jpg
[Image]: https://www.constructioncanada.net/wp-content/uploads/2021/01/5111_N160.jpg
[Image]: https://www.constructioncanada.net/wp-content/uploads/2021/01/MarkHuxta-Headshot.jpg
mark.huxta@ecoreintl.com: mailto:mark.huxta@ecoreintl.com
[Image]: https://www.constructioncanada.net/wp-content/uploads/2021/01/IIDA-headshot.jpg
Source URL: https://www.constructioncanada.net/managing-noise-in-health-care-facilities-through-flooring-specification/
---