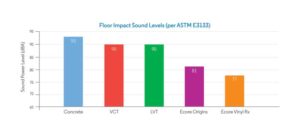 Beyond carpet and tile
In the health-care environment, hygienic and easy-to-clean flooring is a top priority, prompting most designers to select hard surface materials for durability and cleanability. Constant foot traffic and the movement of equipment along these surfaces, however, create loud noises throughout the facility and impact patient satisfaction. Opting for a carpet or other fibrous material that reduces floor impact sound, on the other hand, can raise concerns of cleanability as well as increase risks of tripping and catching when rolling carts.
Recent technology has resulted in a third option—fusion-bonded resilient flooring—that marries the hygienic benefits of a hard surface with the acoustic and ergonomic attributes associated with carpets or other textile surfaces. The flooring option consists of a vinyl surface fusion-bonded to a vulcanized composition rubber performance backing. These materials reduce floor impact sound while providing supportive cushioning underfoot to drive safety and comfort. The fusion-bonded flooring also offers a wide variety of design and colour possibilities, such as wood-like surfaces or modern finishes, without sacrificing the performance benefits of rubber flooring. These resilient flooring options are helping to create more comfortable and effective healing environments for patients and providers.
In-room impact noise
In health-care environments where the staff is constantly in motion, flooring impact sound from rolling carts, footsteps, and dropped items can be a major source of noise. These sounds are often sudden and unpredictable, making them harder to tune out than more consistent ambient sounds like those from the heating and cooling system. Flooring impact sounds can be reduced by selecting the right surfacing.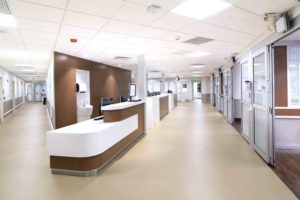 Noise has been a known issue in the health-care environment for years, and many organizations have developed standards and guidelines to help address this problem. For instance, guidelines from the Facilities Guidelines Institute (FGI) set forth maximum design criteria for noise in interior spaces. However, these standards are often for building systems and based on unoccupied rooms. Therefore, they do not consider all foreseeable noises, such as footsteps.
Introduced in 2018, ASTM E3133, Standard Test Method for Laboratory Measurement of Floor Impact Sound Radiation Using the Tapping Machine, helps address this gap and provides the health-care designer with a key acoustic metric for the healing environment. Testing to ASTM E3133 allows architects and designers to make an impartial comparison of the performance of various materials. ASTM E3133 tests sound generated within the same room as the impact source, and not through the floor assembly into the room below.
To compare how different materials on flooring impact sound, Intertek was tasked with measuring the performance of five floor finishes according to the new standard. They included bare concrete, 3-mm (188-mils) thick vinyl composition tile (VCT), 4-mm (157-mils) thick luxury vinyl tile (LVT), cork blended with vulcanized composition rubber (3.2 mm [126 mils] thick), and vinyl surfaces fusion-bonded to a vulcanized composition rubber backing (2-mm [79-mils] thick sheet vinyl on 5-mm [198-mils] thick rubber). The fusion-bonded vulcanized composition rubber backing works as an acoustical underlayment. The main benefit by using a factory-fused acoustic layer is that it allows one to use different types of flooring products with a thicker underlayment than possible when installing a field-applied layer (finished flooring and acoustic underlayment).
Intertek's testing shows concrete recorded the highest floor impact sound level of 93 dB, followed by generic VCT and LVT at 90 dB. In contrast, vulcanized composition rubber with cork tested at 81 dB, nine dB lower than VCT and LVT, almost 50 per cent quieter. Finally, vinyl fusion-bonded to a vulcanized composition rubber backing had the lowest impact sound level at 77 dB—13 dB below VCT and LVT. A 13-dB decrease in noise level is equivalent to two-and-a-half times of relative quietness in terms of perceived loudness.
Testing also found the floor impact sound levels for vulcanized composition rubber with cork as well as vinyl fusion-bonded to vulcanized composition rubber were below the floor impact sound levels for a bare concrete floor at all frequencies. Floor impact sound levels for these two surface types were also below the VCT and LVT levels at almost all frequencies. At high frequencies, VCT is as much as 24 dB (more than four times) louder than vinyl surfaces with a vulcanized composition rubber backing.
Testing showed vulcanized composition rubber with cork and vinyl with a vulcanized composition rubber backing significantly reduced the 'click' (high frequency portion) of footsteps that is prominent with high-heels and hard-soled shoes on hard floor surfaces.

Control the content you see on ConstructionCanada.net!
Learn More.