Recording studio
In most cases, recording studios need to have low background noise levels and a high level of sound isolation from a rehearsal facility. In this design, it was not possible to completely separate the rehearsal space from the studio. Although this presented a considerable design challenge, it was accomplished by creating a fully floating recording studio.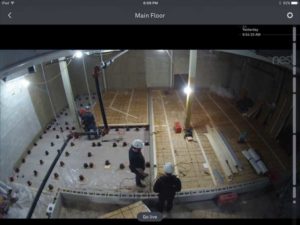 The floating concept was achieved by having the entire studio block resting on resilient mountings. The concrete floor was poured on rubber isolators, and then walls were built on top of it. The ceiling is resiliently suspended from the structure with springs to complete the floating concept. Resiliently suspending the components of the room provides a higher level of sound isolation than can be achieved through conventional construction. To prevent flutter echo (i.e. the sound or chatter trapped between parallel reflective surfaces), there cannot be any large areas of bare wall or ceiling. To address this, acoustical finishes such as fabric-wrapped fibreglass acoustical panels and ceiling treatments were used in the studio. The fabric-wrapped acoustic panels varied in thickness depending on the usage of the room. Most rooms were fitted with 25-mm (1-in.) panels while rooms needing greater sound isolation were fitted with 50-mm (2-in.) panels and bass traps, thick absorbers employed to provide more control for lower frequencies.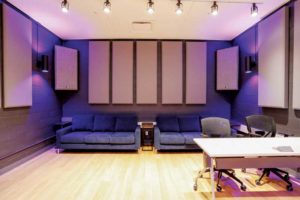 Bass traps need to have more thickness because low-frequency waves have larger wavelengths and can be tougher to control than high-frequency sound. Another challenge with these lower frequencies is one can often have room modes excited at these frequencies and additional resonance can occur, creating an environment with the ability to amplify these low frequencies. Generally, low-frequency energy is less than 100 Hz and must be controlled to create a balanced environment to ensure a uniform acoustic response in the room across the frequency range.
As can be expected, there are no views in or out of the facility as all of the windows were filled in with masonry blocks for sound isolation purposes. All of the doors within the building were upgraded with adjustable neoprene acoustic seals. For the recording studio block, vestibules were used to provide the required level of sound isolation.
Conventional construction for similar spaces comprises gypsum or masonry walls. In this design, the combination of masonry, gypsum, and isolated assemblies as well as interior room treatment makes a significant impact on sound transfer. The floating design can provide 20+dB of improved performance in sound isolation.
The recording studio includes a live room where musicians can play and be recorded. Given the loud volume of some of the musicians (e.g. rock bands), the wall, floor, and ceiling assemblies were designed to provide extremely high sound isolation performance and to achieve a noise criteria- (NC) 25 background noise level. The STC rating of partitions ranges from 60 to 70, but the most significant consideration was to provide adequate low-frequency isolation which cannot be measured by STC because it does not assess low frequencies. This is an issue when it comes to bass. This is generally the most difficult aspect of high-level isolation in such a recording studio venue. The team's solution was careful design of wall assemblies to provide adequate mass and correctly sized air spaces to keep sound isolated.
In such a design, even the smallest deficiencies in detailing and construction can lead to major issues in sound isolation performance. Isolated assemblies come with the significant acoustical challenge of avoiding rigid bridging of structural elements. An isolated wall assembly is made up of two sets of studs, and anything passing through (e.g. ducts, pipes, and conduits) cannot rigidly contact the isolated walls, floors, or ceilings. Noise transmission through ductwork was another issue that had to be carefully evaluated. Ductwork lined with 25-mm (1-in.) thick fibreglass duct liner with reduced airflow velocities was developed throughout the space to minimize background noise.

Control the content you see on ConstructionCanada.net!
Learn More.