Lighting the multifunctional classroom
September 16, 2018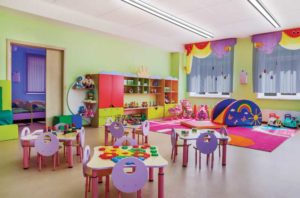 By Laurie Emery, LC, MIES, and Lindsay Emanuel
Specifiers are often asked to "do more with less," and this is certainly the case for education spaces. As schools adopt more complicated technology and collaboration-based classroom activities, the need for design flexibility has intensified.
Lighting recommendations for classrooms are highly specific; describing levels depending on surface type, technology use, student age, and the subject matter and activities held in the room. However, many classrooms are designed to be multifunctional, fulfilling different purposes throughout the day. A classroom may be used for math one period and social studies the next. A music room may double as a study hall. Schools are also subject to energy codes and requirements for daylight harvesting, which may determine their lighting choices.
Under a tight design or facility budget, these multifunctional spaces are stretched to their limits. Finding luminaires to suit all those needs in one room while satisfying a strict budget can be a daunting task for specifiers.
Recommended illuminance for classrooms
The Illuminating Engineering Society's (IES's) The Lighting Handbook notes classroom lighting design impacts student attention and must support visual tasks, many of which are vertically oriented. General illuminance in a classroom should be 300 to 500 lux (30 to 50 foot-candles [fc]) for a typical classroom.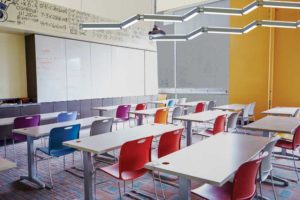 The recommendations specify illuminances for subject matter and classroom activities due to the range of accuracy needed for different tasks. For example, a study hall classroom, if designed for occupants 25 and under, should have approximately 150 lux (15 fc) on horizontal surfaces and 100 lux (10 fc) on vertical surfaces. Compare this to a science lab or art studio where 250 lux (25 fc) is recommended on horizontal targets and 150 lux on vertical targets.
Further, lighting specifiers working on education projects have to account for different age groups because the recommended light levels for children and adults vary. The above study hall example would require 300 lux on horizontal surfaces for 25- to 65-year-old occupants. When a space is used by diverse age groups, IES recommends designing for teachers, and not for students, as the former must perform a broader array of tasks. However, it does state the designer should decide on a case-by-case basis the age group for determining illuminance levels in each part of the room.
The IES handbook also recommends switching off and/or dimming luminaires near windows during the day, and specifying direct/indirect luminaires to reduce glare and veiling reflections. This can also reduce cost because when direct/indirect luminaires include at least 50 per cent illuminance through direct light, designers can reduce the recommended illuminance values in most areas by 20 per cent.
The specificity of these recommendations, when considered alongside the multifunctional nature of educational spaces, shows classrooms can benefit from luminaires and lighting controls with several uses.
The authors connected with several architects, lighting and interior designers, and electrical engineers who have worked with educators to specify lighting for education projects. Their experiences give insight into how lighting choices are impacted by the classroom itself, lighting controls, screen use, building longevity, classroom esthetics, and budget.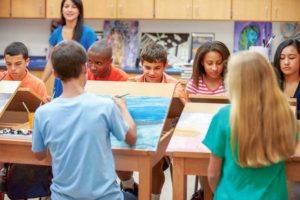 Classroom configuration
Both K-12 and higher education classrooms are abandoning the traditional eyes-front configuration as pedagogy and technology evolve. Lessons have become more hands-on and interactive, and thus the space is more fluid. Chairs and desks are clustered together rather than lined up in a neat, uniform grid.
Douglas Bencks, university architect at the University of New Hampshire, Durham, NH, works directly with a classroom maintenance committee to make decisions about each space on campus. He describes how many classrooms are broken into teams.
"It is an interactive kind of learning, typically in groups of nine," Bencks states. "There is no front-of-the-room. The instructor is walking around while students work on a particular problem. They may display examples."
For buildings and classrooms housing similar classes, the ideal lighting would be equally flexible, but what does flexibility mean for lighting solutions?
Cory Dear, designer at Corgan in Dallas, TX, explains. "This is something we are starting to see across building types. It is not just in education; it is in the corporate environment as well.
The need to collaborate is everywhere, and collaborative spaces need lighting that can adjust to the activity level. One moment you want to wash a wall, and the next minute you want to throw light into the classroom."
This capability is invaluable if done correctly within the lighting controls themselves.
Controls
The classroom is a hard-working space with busy occupants. Lighting should be designed to make the work easier, not complicated. Controls are one aspect specifiers worry about in the education market.
"Too much complexity in lighting control is not really wanted," says Jamey Alverson, project manager at KRJ Architects, St. Louis, MO. "The way people still operate in schools is you walk into the room, you reach your hand out to the left, and you flip the switch on or off."
Teachers should not have to learn complex control systems to optimize their learning environment.
Kimberly Colyar, project architect at SMP Architects in Philadelphia, PA, says "Specifiers are not looking for high-end controls. It is already not a concern."
On the other hand, smart features can also be an integral part of classroom design and drive costs down.
Jeanmarie Zimmerman, healthcare architect and planner from Los Angeles, CA, discusses how to make controls easier for instructors.
"For example, a control panel allows a professor to choose their own scene vs. a system shared by a number of educators," she says.
Digital screens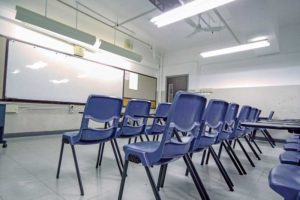 Technology has also had an impact on lighting design. With more students using digital screens throughout the class period, indirect lighting is necessary. The IES handbook describes how, unlike books, digital screens have inherent contrast helping people perceive detail. As such, during screen time students only need indirect light for vertical illuminances and facial recognition.
This is especially critical for eliminating glare. Direct lighting produces glare on screens, and IES does recommend certain illuminance levels for classrooms using non-reflective screens. However, students may be using their own laptops or tablets. Designers cannot accurately predict the angle and location of every digital screen in the room. In most classrooms now, the ideal luminaire provides indirect or direct lighting that can be controlled during digital screen use.
Adaptability and longevity
At the same time, the space cannot be built too specifically for current technological trends.
"We cannot update our classrooms often, not at the rate technology is changing and adjusting," says Bencks. "We have to make choices. We have to be as current or progressive as possible, while acknowledging it may be five or 10 years before we get into this classroom again."
The average school building is meant to last 40 years or more. Individual components may obviously be replaced in that time, but the overall financial spirit is cautiously resourceful. Zimmerman recalls one school that had to temporarily use trailers to house their classrooms.
"Forty years later, they are still in those trailers," she says.
"Maintenance is important," says Colyar. Education facility managers care about whether or not a product is easy to replace, repair in place, or remove and fix.
"Facility staff used to keep a bunch of light bulbs stocked," says Colyar. "Now they want to know what happens when a diode fails."
Standardization has seen a big push in the lighting industry. Luminaires answering the need for longevity are very important. Zimmerman highlights Zhaga compliance, the lighting industry standardization for interfaces between light-emitting diode (LED) luminaires and light engines so sources can be interchanged between products made by different manufacturers.
The more specialized the lighting is, the harder it is to replace down the road. Compatibility with controls could also be problematic as the controls may need to be updated when the lighting is replaced.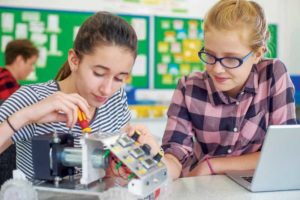 Esthetics
Longevity is not just impacted by classroom technology and replacement issues; specifiers also think about style. While commercial spaces often need to follow design trends and innovative esthetics to attract customers or new tenants, school buildings rely on basic designs.
"One thing that does not go out of style is thinking about light as just light, and not focusing on the fixture," says Dear.
This means lighting that is well-integrated with the interior architecture, like coves and pockets.
Zimmerman agrees "the most timeless designs are going to be those where you cannot see the fixture at all."
Quality of light is also an esthetic choice that may impact cost. Colour rendering index (CRI) is a quantitative measure of the ability of a light source to reveal the colours of various objects faithfully in comparison with an ideal or natural light source. Specifying luminaires with higher CRI may be viewed as an esthetic choice in a general classroom, but in some areas it is important for the activities performed in the space. For example, in a university science lab, the instructor may need to accurately demonstrate the different reactions of a chemical experiment. In a high school art room, students may require high CRI to represent colour accurately in the artwork.
Budget
As is the case with many building projects, design configuration, controls, style, features, etc., are subject to cost issues.
"Schools are being driven down, down, down in budget," says Sam Hurt, principal at The Engineering Collaborative in Indianapolis, IN. "The last sizeable school project we did was not even considering dimmers."
This point is crucial. While lighting designers and luminaire manufacturers may invent sophisticated solutions to classroom challenges, the budget has final say.
At the same time, in some situations it may be practical to specify one luminaire serving multiple purposes—even if it impacts the individual cost. Lighting is getting less expensive every year as costs go down.
"There is already a desire to be able to use the same product for any application in a classroom," says Hurt, "for the whiteboard, general illumination, or for low-level illumination."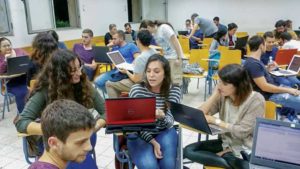 As long as the luminaire fits within the budget and can be easily controlled, it is possible a facility manager will purchase more multitasking lighting solutions. Hurt recollects a conference room project where the client wanted switched troffers and downlights on a dimmer for presentations, but it did not fit the budget.
"We ended up specifying troffers on a dimmer," says Hurt.
When it comes to specialized features, specifiers often need owner buy-in.
"Designers can always sell features at a slight increase in cost if the client is interested and sees the benefit," says Zimmerman.
For the latest innovations like daylighting, disinfection, acoustics, and the Internet of Things (IoT), it becomes a matter of educating stakeholders about the technology and its costs.
"We have to balance the need for the most current technology versus doing things we know are going to work but are not on the edge of where things are heading," says Bencks.
Conclusion
Classroom needs are changing. Nobody can be 100 per cent certain what classroom design will look like in 20 years.
"Where is the future headed for our instructional spaces?" asks Bencks. "What is the role of the instructional space versus all the other ways students can be connected with data and information?"
Classrooms may become even more community based as everyone learns digitally.
Lighting technology is also changing. As new features develop, specifiers experiment with them during commercial projects and specify more conservatively for education projects.
For spaces like classrooms where basic lighting is specified at a lower price than other kinds of general lighting, this may be challenging.
Overall, it is still important to be creative when designing and specifying limited spaces, especially in the academia where so much activity happens.
"You have to think about the future in kind of an unlimited way, and then you need to bring it back to reality," says Dear.
In classrooms, this may mean designing the optimal lighting configuration and ideal controls, then stepping back and asking which solutions can bring one close enough to that ideal.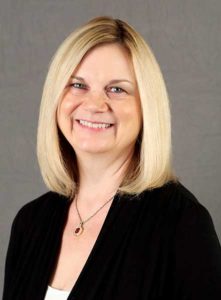 [7]Laurie Emery, LC, MIES, is healthcare market development manager for Visa Lighting. She is a former lighting designer with more than 20 years of experience working alongside architects, engineers, and interior designers on numerous interior and exterior projects for commercial, educational, retail, hospitality, senior living, and healthcare spaces. She can be reached at lemery@visalighting.com[8].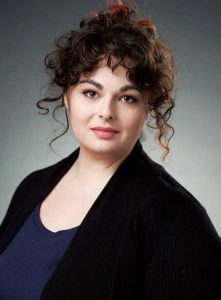 [9]Lindsay Emanuel is a writer and digital marketing specialist for Visa Lighting. She researches effective strategies for communication between specifiers and manufacturers. She can be reached at lemanuel@visalighting.com[10].
Endnotes:
[Image]: https://www.constructioncanada.net/wp-content/uploads/2018/09/lighting_Latitude_6ft_Classroom_FAPP.jpg
[Image]: https://www.constructioncanada.net/wp-content/uploads/2018/09/lighting_Catena_KT2202_Classroom_FAPP.jpg
[Image]: https://www.constructioncanada.net/wp-content/uploads/2018/09/lighting_shutterstock_199145018.jpg
[Image]: https://www.constructioncanada.net/wp-content/uploads/2018/09/lighting_shutterstock_92888416.jpg
[Image]: https://www.constructioncanada.net/wp-content/uploads/2018/09/lighting_shutterstock_749492761.jpg
[Image]: https://www.constructioncanada.net/wp-content/uploads/2018/09/lighting_Working_in_small_groups_3.jpg
[Image]: https://www.constructioncanada.net/wp-content/uploads/2018/09/Laurie_Emery.jpg
lemery@visalighting.com: mailto:lemery@visalighting.com
[Image]: https://www.constructioncanada.net/wp-content/uploads/2018/09/Lindsay_Emanuel.jpg
lemanuel@visalighting.com: mailto:lemanuel@visalighting.com
Source URL: https://www.constructioncanada.net/lighting-the-multifunctional-classroom/
---