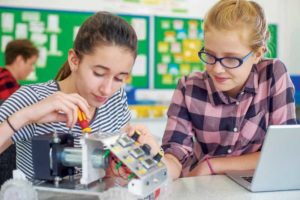 Esthetics
Longevity is not just impacted by classroom technology and replacement issues; specifiers also think about style. While commercial spaces often need to follow design trends and innovative esthetics to attract customers or new tenants, school buildings rely on basic designs.
"One thing that does not go out of style is thinking about light as just light, and not focusing on the fixture," says Dear.
This means lighting that is well-integrated with the interior architecture, like coves and pockets.
Zimmerman agrees "the most timeless designs are going to be those where you cannot see the fixture at all."
Quality of light is also an esthetic choice that may impact cost. Colour rendering index (CRI) is a quantitative measure of the ability of a light source to reveal the colours of various objects faithfully in comparison with an ideal or natural light source. Specifying luminaires with higher CRI may be viewed as an esthetic choice in a general classroom, but in some areas it is important for the activities performed in the space. For example, in a university science lab, the instructor may need to accurately demonstrate the different reactions of a chemical experiment. In a high school art room, students may require high CRI to represent colour accurately in the artwork.
Budget
As is the case with many building projects, design configuration, controls, style, features, etc., are subject to cost issues.
"Schools are being driven down, down, down in budget," says Sam Hurt, principal at The Engineering Collaborative in Indianapolis, IN. "The last sizeable school project we did was not even considering dimmers."
This point is crucial. While lighting designers and luminaire manufacturers may invent sophisticated solutions to classroom challenges, the budget has final say.
At the same time, in some situations it may be practical to specify one luminaire serving multiple purposes—even if it impacts the individual cost. Lighting is getting less expensive every year as costs go down.
"There is already a desire to be able to use the same product for any application in a classroom," says Hurt, "for the whiteboard, general illumination, or for low-level illumination."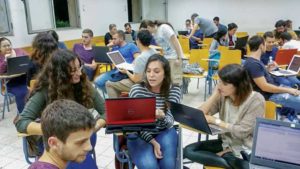 As long as the luminaire fits within the budget and can be easily controlled, it is possible a facility manager will purchase more multitasking lighting solutions. Hurt recollects a conference room project where the client wanted switched troffers and downlights on a dimmer for presentations, but it did not fit the budget.
"We ended up specifying troffers on a dimmer," says Hurt.
When it comes to specialized features, specifiers often need owner buy-in.
"Designers can always sell features at a slight increase in cost if the client is interested and sees the benefit," says Zimmerman.
For the latest innovations like daylighting, disinfection, acoustics, and the Internet of Things (IoT), it becomes a matter of educating stakeholders about the technology and its costs.
"We have to balance the need for the most current technology versus doing things we know are going to work but are not on the edge of where things are heading," says Bencks.
Conclusion
Classroom needs are changing. Nobody can be 100 per cent certain what classroom design will look like in 20 years.
"Where is the future headed for our instructional spaces?" asks Bencks. "What is the role of the instructional space versus all the other ways students can be connected with data and information?"
Classrooms may become even more community based as everyone learns digitally.
Lighting technology is also changing. As new features develop, specifiers experiment with them during commercial projects and specify more conservatively for education projects.
For spaces like classrooms where basic lighting is specified at a lower price than other kinds of general lighting, this may be challenging.
Overall, it is still important to be creative when designing and specifying limited spaces, especially in the academia where so much activity happens.
"You have to think about the future in kind of an unlimited way, and then you need to bring it back to reality," says Dear.
In classrooms, this may mean designing the optimal lighting configuration and ideal controls, then stepping back and asking which solutions can bring one close enough to that ideal.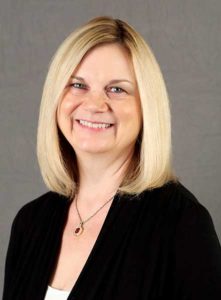 Laurie Emery, LC, MIES, is healthcare market development manager for Visa Lighting. She is a former lighting designer with more than 20 years of experience working alongside architects, engineers, and interior designers on numerous interior and exterior projects for commercial, educational, retail, hospitality, senior living, and healthcare spaces. She can be reached at lemery@visalighting.com.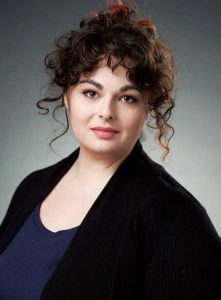 Lindsay Emanuel is a writer and digital marketing specialist for Visa Lighting. She researches effective strategies for communication between specifiers and manufacturers. She can be reached at lemanuel@visalighting.com.

Control the content you see on ConstructionCanada.net!
Learn More.