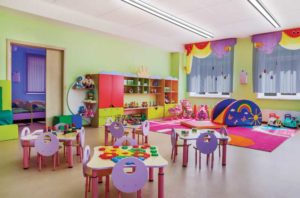 By Laurie Emery, LC, MIES, and Lindsay Emanuel
Specifiers are often asked to "do more with less," and this is certainly the case for education spaces. As schools adopt more complicated technology and collaboration-based classroom activities, the need for design flexibility has intensified.
Lighting recommendations for classrooms are highly specific; describing levels depending on surface type, technology use, student age, and the subject matter and activities held in the room. However, many classrooms are designed to be multifunctional, fulfilling different purposes throughout the day. A classroom may be used for math one period and social studies the next. A music room may double as a study hall. Schools are also subject to energy codes and requirements for daylight harvesting, which may determine their lighting choices.
Under a tight design or facility budget, these multifunctional spaces are stretched to their limits. Finding luminaires to suit all those needs in one room while satisfying a strict budget can be a daunting task for specifiers.
Recommended illuminance for classrooms
The Illuminating Engineering Society's (IES's) The Lighting Handbook notes classroom lighting design impacts student attention and must support visual tasks, many of which are vertically oriented. General illuminance in a classroom should be 300 to 500 lux (30 to 50 foot-candles [fc]) for a typical classroom.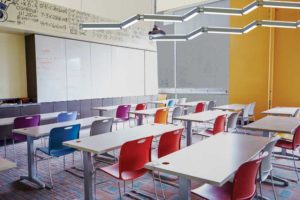 The recommendations specify illuminances for subject matter and classroom activities due to the range of accuracy needed for different tasks. For example, a study hall classroom, if designed for occupants 25 and under, should have approximately 150 lux (15 fc) on horizontal surfaces and 100 lux (10 fc) on vertical surfaces. Compare this to a science lab or art studio where 250 lux (25 fc) is recommended on horizontal targets and 150 lux on vertical targets.
Further, lighting specifiers working on education projects have to account for different age groups because the recommended light levels for children and adults vary. The above study hall example would require 300 lux on horizontal surfaces for 25- to 65-year-old occupants. When a space is used by diverse age groups, IES recommends designing for teachers, and not for students, as the former must perform a broader array of tasks. However, it does state the designer should decide on a case-by-case basis the age group for determining illuminance levels in each part of the room.
The IES handbook also recommends switching off and/or dimming luminaires near windows during the day, and specifying direct/indirect luminaires to reduce glare and veiling reflections. This can also reduce cost because when direct/indirect luminaires include at least 50 per cent illuminance through direct light, designers can reduce the recommended illuminance values in most areas by 20 per cent.
The specificity of these recommendations, when considered alongside the multifunctional nature of educational spaces, shows classrooms can benefit from luminaires and lighting controls with several uses.
The authors connected with several architects, lighting and interior designers, and electrical engineers who have worked with educators to specify lighting for education projects. Their experiences give insight into how lighting choices are impacted by the classroom itself, lighting controls, screen use, building longevity, classroom esthetics, and budget.

Control the content you see on ConstructionCanada.net!
Learn More.