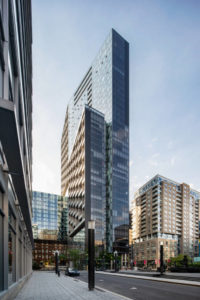 Canadian design firm, Lemay, was brought in as lead architect, while Lemay + Escobar, the sister brand, crafted the interiors of Montreal's first 'vertical city,' known as Humaniti.
Located at the crossroads of the international district, the Quartier des Spectacles, and Old Montreal, the building includes a luxury hotel, rental units, restaurants, boutiques, and public spaces.
Its H-shaped design promotes a dialogue across its 39 floors and differing vocations. The multifunctional plaza is an extension of the Place Jean-Paul Riopelle, named after the internationally renowned Quebec painter and sculptor, which faces the project.
The Marriott Autograph Collection hotel is spread over 11 floors, and is suspended on a cantilever-shaped structure, marrying Humaniti's residential and commercial complexes and completing the community's unique "H" shape.
The hives reinforce the vertical city concept, these balconies break the scale of the project to create a discourse. Each hive has approximately four households, similar to the typology found in many Montreal neighborhoods.
The vertical community allows residents and visitors alike to enjoy big city living, while connecting with nature and striking a dialogue between its residents and the spaces they inhabit. Its design proposes a lifestyle that reduces the need for artificial light in lieu of natural sunlight and views. The project's color scheme was selected based on those that can be found in natural spaces, further solidifying the project's connection to nature.