LEED-Platinum-certified Telus Sky optimizes water and energy consumption
by arslan_ahmed | August 3, 2022 2:16 pm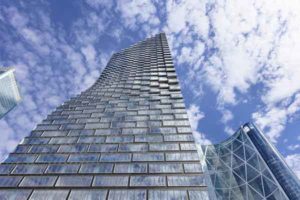 Built to LEED platinum certification by Westbank and Allied, 70,000-m2 (750,000-sf) TELUS Sky features an innovative recycling system for water conservation, as well as specialized air ventilation and glazed windows for reduced energy use.
The 60-storey, mixed-use TELUS Sky, which recently officially opened in downtown Calgary for public use carries a storm water management system that recycles rainwater for use in washroom toilets and urinals, reducing the building's municipal water demand by 70 per cent.
It also has a thermal energy system designed to efficiently transport hot water through an underground network of insulated pipes across the city, resulting in a 30 per cent reduction in heating energy demand.
Hundred per cent fresh air ventilation with operable windows and exterior terraces also aim to reduce air-conditioning reliance for lessened energy consumption.
Windows set into a robust envelope with triple-pane glazing follow a design intent to decrease solar transmission and promote greater shade within the building. This contributes to a 35 per cent reduction in the building's energy use compared to similar size developments.
The building also features Canada's largest public art display, 'Northern Lights' by Douglas Coupland which is integrated into the building's façade for the enjoyment of all residents and visitors.
Endnotes:
[Image]: https://www.constructioncanada.net/wp-content/uploads/2022/08/AA_TelusSky.jpg
Source URL: https://www.constructioncanada.net/leed-platinum-certified-telus-sky-optimizes-water-and-energy-consumption/
---