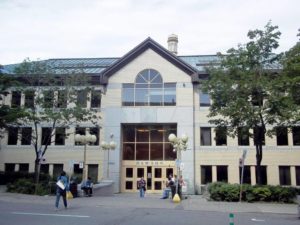 The new LABO rental housing project will transform one of Canada's first pharmaceutical labs, at Dawson College's former Selby campus, into New York-inspired rental housing.
Vacant for almost 25 years, the site will undergo a rejuvenation headed by a team-up of Saint-Louis, PUR Immobilia, EMD-Batimo, and Roland Hakim Consultant and come back to life in June 2022. In total, the project comes with an estimated price tag of $120 million to redevelop the historic building and construct a new addition.
Located in Westmount, Quebec, the development is bordered by Saint-Antoine and Rose-de-Lima streets, Bel-Air Avenue, and the Ville-Marie Expressway.
The LABO will offer two phases of New York-inspired rental units. The cachet of the original building, with its huge windows and nearly 3.6 m (12 ft) ceilings, will provide an industrial look combined with the design.
The first phase, in the original building from 1926, will be completed in June 2022. It will have 126 rental units, over seven floors, served by two elevators. All parking spaces will be indoors, there will be charging stations for electric vehicles, and bicycle spaces will be available. Storage spaces will also be available on each floor.
The rental complex will include an urban chalet on the roof, with a lounge area, a pool table, a fireplace, a gym, and a large outdoor terrace.
The LABO will also offer technological tools to allow tenants to experience "smart living." Among other things, they will have access to the Pur Contact app developed by BuildingLink. The app offers intelligent building technology, allowing tenants to have continuous news about the building and their accommodations, as well as the names of professionals from proven home services.
The second phase concept is currently in progress and will be submitted to the City of Westmount for approval. It should consist of 188 units over 18 floors. Once it is completed, all tenants will have access to an indoor swimming pool, coworking spaces, a large lobby, and green spaces on the roof terraces.