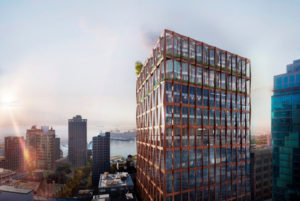 The Vancouver City Council has unanimously approved Kohn Pedersen Fox's (KPF's) design for the 601 West Pender Street project.
Sensitive in both scale and materiality, the building replaces a six-storey parking structure in the city's Central Business District with a retail base covered by a planted pedestrian canopy, an enhanced Alley Oop laneway, 29 floors of state-of-the-art workspace, and crown amenities with panoramic views of the city. Developed by Reliance Properties, the new building will offer tenants over 1486 m2 (16,000 sf) of amenity spaces across the tower's two highest floors, including a lounge, a health and wellness centre with fitness studios, sauna and steam rooms, and an expansive landscaped roof deck.
The buildings gridded façade complements the surrounding heritage buildings, unifying the architecture of the block. A fold is introduced to the building's grid frame to achieve a woven appearance that plays with light to create depth. A warm metal in two finishes—textured and flat—adds colour and reflectivity, and counteracts the typically overcast local climate. Two major contextual datums found in the cornice of the neighbouring Rogers Building, a Vancouver Heritage Foundation site, and the soffit of a nearby building continue across the new building as canopies and setbacks.
"We felt the best way to complete this block of heritage buildings was to create a building that was at once modern and timeless and accentuates its context with scale and colour–while bringing nature into the urban fabric," said Marianne Kwok, KPF design director.
The landscape borrows from the form of the building, with the façade's angles superimposed on various landscape elements. These elements are incorporated throughout the base, activating the streetscape, with additional landscaping added to the architectural canopy, ensuring greenery is experienced three-dimensionally.
While the glass in the main tower is flat, the façade folds inward at the top and bottom to create pockets of green space, a wider public realm at the base, and views into retail and amenity spaces. The redevelopment will re-establish the pink motif on the tower's lower level walls facing the Alley Oop laneway, and will consider incorporating a retractable roof scrim as well as new lighting to enhance its sense of place. Additionally, the building's loading dock will be painted in bright colours, and can be used as an event space during off-hours, extending the laneway's public space. Altogether, the building brings an interplay of light, reflection, and nature to the Vancouver skyline, while reinvigorating and enhancing public space at the ground plane.
The project is slated for completion in 2025. Chris Dikeakos Architects is serving as architect of record and Enns Gauthier is landscape architect.