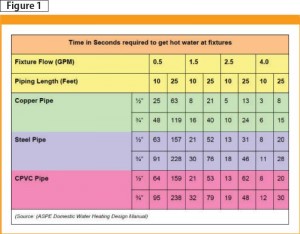 Figure 1 summarizes ASPE data from the association's Domestic Water-heating Design Manual for a summary based on flow testing with different pipe materials.
Residential applications
Traditionally, even new, large houses with floor areas greater than 390 m2 (4000 sf) are not equipped with any kind of domestic hot-water recirculation system; further, domestic water pipes are not required to be insulated in many jurisdictions. Typically, the domestic hot-water tank/heater is located in a basement or ground-floor utility room, along with the heating/cooling unit (e.g. gas-fired furnace or heat-pump air unit).
Well-planned installations will try to have the hot-water heater as centralized as possible to keep the domestic hot-water pipe runs to the furthest fixtures minimized. Based on Figure 1, even a 12-mm (½-in.) copper tube longer than 7.6 m (25 ft) from the heater to a lavatory on the upper floor exceeds the acceptable wait time, and wastes more than 4.5 L (1 gal) of water.
Figure 2 provides an example of what could be considered a modern, best-practice, hot-water distribution system, using a small recirculation system and minimized branch pipe lengths to the fixtures.
Another constraint for gas-fired domestic hot-water heaters—both instantaneous and tank-type—is the gas-fired appliances must be located where they can be accessed, and have flue routes up through the building or to the outside wall. The instantaneous gas-fired domestic water heaters that can be used as point-of-use hot-water dispensers still need code-compliant clearances and access to the exterior for the flues and combustion air.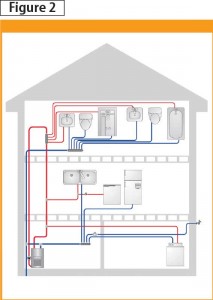 Electric point-of-use instantaneous hot-water heaters are less constrained than the gas-fired units, but incur large capital and energy cost impacts due to the amperage draw and Canadian Electrical (CE) Code minimum breaker and wiring requirements. Additionally, the cost of an equivalent kWh of electrical energy in most of Canada is more than the expense of its natural gas equivalent—sometimes almost double.
Tankless tasks
Whether tankless instantaneous hot-water heaters actually save energy depends on several factors. In a retrofit residential installation with older piping systems and longer un-insulated pipe runs to the fixtures, studies have shown there are very little savings compared to a gas-fired domestic hot-water storage tank.
In a new installation with proper best-practice design and insulated plumbing piping, instantaneous hot-water heaters can show energy savings from reduced standby losses. However, given the relatively low cost of natural gas, and the capital cost of the tankless heater compared to a conventional high-efficiency tank-type water heater, the payback can still exceed 15 years or more.
Since the provincial plumbing codes do not incorporate any wait-time requirements, and since most small residential projects do not involve a professional engineer or plumbing designer, the plumbing contractor is usually the designer/installer of the domestic piping system in the house. Frequently, the lengths of piping from the hot-water heater will be longer than 7.6 m (25 ft) to many of the plumbing fixtures in the house; they are also unlikely to be insulated. The result, therefore, may be the latest in low-consumption fixtures and trim, but still as much water waste as a 40-year-old house that still has its standard plumbing.
Multi-unit residential buildings
Residential apartment buildings and condo high-rises usually have two different styles of domestic hot-water systems:
compartmentalized (i.e. individual domestic hot-water heaters in each unit); or
central domestic hot-water systems with recirculation.
The good thing is these projects will likely have a consulting engineer and a commercial plumbing design approach, so the potential for poor domestic hot-water piping design is usually minimized.
The compartmentalized system usually consists of a 151- or 227-L (40- or 60-gal) electric heater/tank unit located in a closet of the apartment, with domestic hot-water run-outs (copper or cross-linked polyethylene [PEX] branch pipes from a main to a terminal device or fixture) to the fixtures through the ceiling or walls. Some current designs of PEX piping within the suite include equal pressure manifolds and run-outs that, if the plumbing designer and design engineer are on top of the latest recommendations, will have relatively short run-out branch pipes to the in-suite fixtures.

Control the content you see on ConstructionCanada.net!
Learn More.